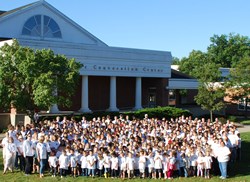 North Ridgeville, OH (PRWEB) October 01, 2013
On September 6th students, faculty, and staff of Lake Ridge Academy volunteered throughout the community for the school's annual Day of Service. Students spent their day learning about environmental issues while assisting area parks conduct research and helping clean up numerous locations.
Students traveled to the Miller Nature Preserve, French Creek Park, and Sandy Ridge Reservation where they mulched trails, tagged butterflies, pulled weeds and rid the parks of garbage while learning about the importance of keeping the environment free of litter and invasive plants.
Lower school students traveled to the Carlisle Nature Center and High Meadows Picnic Area where they spoke with a naturalist about their Bird Exhibit and the importance of birds to our environment. To support the park, students worked on the stream bank cleanup project.
Fifth and eighth grade students met with representatives from the Lake Erie Alliance to understand the importance of a clean lake and the environmental and biological hazards of pollution in Lake Erie. They spent the day at Huntington Beach bagging 125 pounds of garbage and collecting data for the Alliance.
Not only did students help throughout Lorain and Cuyahoga counties, some stayed on campus to make improvements to Lake Ridge Academy. Students worked diligently to prepare for the school's 50th Anniversary Celebration events. Seventh grade students spread two truckloads of wood chips on the playground to make the play areas safer for the younger children. Even the youngest Kindergartners, along with their senior buddies, worked together to make the campus shine by pulling weeds and decorating hallways.
The Day of Service represents Lake Ridge Academy's commitment to service and volunteerism. Additional annual events include an All School Holiday Service Project that provides food for area food banks and supplying food and presents at a Three Kings Celebration dinner for church members in Lorain, Ohio.
About Lake Ridge Academy
Lake Ridge Academy is an independent, nonsectarian day school offering co-educational classes from kindergarten through grade 12.
Founded in 1963, Lake Ridge Academy is committed to providing small class sizes and maintains an 8:1 student ratio. Located on a beautiful 88 acre campus, we are the only independent college preparatory school on Cleveland's west side.
Our mission is to send into a changing world confident young people of integrity who think critically and creatively while embracing the joy of lifelong learning.