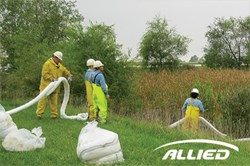 we are presenting new and better tactics with a 'boots-on-the-ground' mentality
Lima, Ohio (PRWEB) October 05, 2013
In partnership with Elemental Services & Consulting, Inc. (ESCO), Allied Environmental Services, Inc. (Allied) hosted a one-day seminar titled: "Spill Planning, Response and Recovery: New Ideas, Valuable Results" on September 26, 2013 in Lima, Ohio. The program focused on re-thinking traditional response tactics and applying more efficient and smarter countermeasures in response to oil and hazardous materials spills. According to Joel Hogue, President of ESCO, the training is intended to educate facility owners and managers with regard to planning and response actions that save time, money and reputation, while lessening environmental impact. "We are not just rehashing old ideas that are ineffictive," Hogue stated. "We are presenting new and better tactics with a 'boots-on-the-ground' mentality and bringing real change to spill planning, response and recovery operations. This is a math and science-based approach with measured results," Hogue added.
The seminar was attended by regional leaders of the manufacturing, petroleum refining, transportation, and health care industries. According to Chad Reynolds, Allied Business Development Manager, response from the session was very positive. "Multiple attendees indicated that the training succeeded in changing how they think about spill response operations," Reynolds said. "It's a progressive approach and people are seeing the value in it", he added. According to Reynolds, more training sessions are planned for winter 2014."
Those interested in learning more about future training seminars are encouraged to contact Chad Reynolds of Allied at (800) 992-5781, or Joel Hogue of ESCO at (740) 815-9660.
About Allied Environmental Services, Inc.
Allied Environmental Services, Inc. (Allied) is a leading environmental consulting and contracting firm with offices in Lima, Ohio and Toledo, Ohio. For over 26 years, Allied has provided professional environmental management solutions to private industry, property owners, lenders, municipalities, schools, and hospitals. Allied specializes in hazardous materials management, emergency spill response, industrial cleaning (vac-truck and hydroblasting services), asbestos abatement, underground storage tank closure, Phase I and II ESA, and air quality testing.
For more information, please visit Allied's website at http://www.allied-environmental.com.