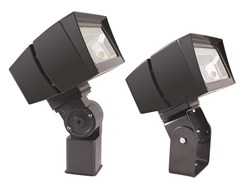 Customers demanded more mounting options for our top selling 39W floodlight and we delivered.
Northvale, NJ (PRWEB) October 10, 2013
RAB Lighting, Inc. announces the introduction of slipfitter and trunnion models to its FFLED39 line of floodlights. The new heavy-duty mounting options enable the 39-Watt LED fixture to be installed securely on buildings, walls, flat surfaces and on poles with 2 3/8" tenons.
The fixture is UL listed for wet locations as an uplight or downlight, making it ideal for a variety of applications including signage, landscape and security lighting. With a lumen package equivalent to 150 Watt metal halide, the FFLED39 delivers impressive light output while saving 75% in energy costs. An optional photocell is available to achieve even more energy savings. Reduced energy usage, lower maintenance costs, plus local utility rebates all add up to a fast payback period, which in many cases is less than a year.
"Customers demanded more mounting options for our top-selling 39W floodlight and we delivered," says Ross Barna, CEO of RAB Lighting. "The new slipfitter and trunnion models provide even more flexibility and versatility to this very popular all-purpose LED fixture."
The FFLED39 boasts a 100,000-hour LED lifespan based on IES LM-80 results and TM-21 calculations. At 10 hours average daily use, RAB LEDs are rated to last 27 years. Additionally, RAB's patent pending flow-through thermal management technology provides superior heat dissipation that extends LED life even further, resulting in a dramatic reduction in maintenance and relamping costs compared to HID alternatives.
In addition to the slipfitter and trunnion models, the FFLED39 is available with a rugged swivel mount arm. All models are available in bronze and white finishes and in three-color temperatures; cool, neutral and warm – all in stock and ready to ship.
Like all RAB LED fixtures, the 39W LED floodlights come with a No Compromise 5-year Warranty. RAB warrants light output, color stability, driver performance and paint finish. Simple, comprehensive and valuable, the RAB LED Warranty provides bumper-to-bumper protection without confusing legal language or small print.
About RAB Lighting:
RAB Lighting is a leading manufacturer of affordable, durable and energy-efficient LED lighting fixtures. Located in Northvale, New Jersey and founded in 1946, RAB offers well-designed, professional grade lighting through a broad network of electrical distributors. RAB also offers lighting design and engineering services, free of charge, to produce lighting layouts. For more information, call (888) RAB-1000 or visit http://www.rabweb.com.