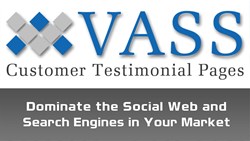 Harley-Davidson of Columbia Tennessee gained over 30,000 page views in 7 days using VASS.
Nashville, Tenn (PRWEB) October 11, 2013
Ocala Florida's popular Harley Davidson dealer has contracted with VASS Customer Testimonial Pages to gain new customers, help infiltrate all major social media streams and dominate search engines. VASS will build a Customer Testimonial Web Page for each customer who buys a new or used motorcycle at Harley-Davidson of Ocala over the next twelve months. VASS then helps the dealer share the Customer Pages in the major social media streams by emailing links to the pages to the customer, the salesperson and the dealership, making easy for everyone to share, comment, Like and +1 the pages on Facebook, Twitter and Google Plus.
VASS will also do its own form of promotion for the many pages it will create for Harley Davidson of Ocala by posting and sharing the pages in Facebook, Google Plus, Twitter, and also blogs, online articles and occasional press releases. As a result, Harley Davidson of Ocala should gain immediate referrals through the various social media streams, followed by long-term sales created by the many Customer Testimonial Pages being indexed and appearing in various search results, whenever new and used motorcycles are searched for in Google and other search engines.
Harley Davidson of Ocala Florida has become a staple for riders in Marion County, selling the very high-quality Harley-Davidson and Buell Motorcycle brands, along with thousands of accessories and motorclothes.
"It's wonderful to have another Harley-Davidson motorcycle dealer join VASS, and Harley Davidson of Ocala is no exception. Their staff is first-class, and have a progressive mindset regarding taking care of their existing customer base with outstanding sales practises, and excellent service. They are exactly the type of motorcycle dealership we wish to represent. We look forward to helping them gain market-share and build trust in their region", according to Drew Bourke, VASS's Creator / CEO of Avidea LLC.
About VASS Customer Testimonial Pages:
VASS Automotive Customer Testimonial Pages was developed by Avidea LLC's CEO, Drew Bourke in 2012. VASS officially launched in June of 2013, following a three-month beta period. VASS helps automotive and motorcycle dealers dominate social media streams and localized web searches by building a new, independently-hosted customer testimonial web page every time they sell a new or preowned vehicle. Every VASS customer testimonial page is a website in and of itself, featuring all facets of the dealership, along with the photo and testimonial of every customer who buys a vehicle from them. Every VASS customer testimonial web page may include:

SEO-maximised text, photos and videos
Videos of featured vehicles and sales promotions
Personal video greetings from their staff
Photos of inventory, the facility, staff, etc.
Interactive Google map
New car sales & leasing specials videos and flyers
Service coupons and discounts
Hyperlinks and email addresses to all departments within the dealership
Contact form
The VASS "Interactive Referral Discount Coupon", that both rewards the existing customer, while incentivizing new customers
VASS Customer Testimonial Pages are hosted independently of each dealer's' website, helping increase their search engine optimization and Google PageRank by having hundreds, possibly thousands of content/SEO-rich pages linking to the dealers' primary website.
New and used auto dealers and motorcycle dealers interested in increasing referrals and sales through the use of social media, off-page SEO and online publicity, may contact VASS Customer Testimonial Pages by email at vassdp(at)gmail(dot)com, or by visiting their website at http://www.VassDP.com.