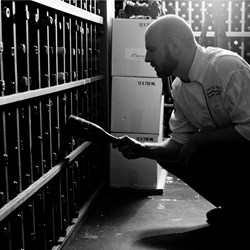 To reflect our admiration for and pride in our local bounty, our wine list focuses specifically on Oregon wines, with many selections coming from local, artisan producers.
Dayton, Oregon (PRWEB) October 24, 2013
As the grape harvest continues in Oregon's Willamette Valley wine country, the Joel Palmer House restaurant in the historic town of Dayton, Oregon is honored to be named one of the 2013 Diners' Choice Award winners for the Top 100 Restaurants with the Most Notable Wine Lists. These awards reflect the combined opinions of more than 5 million reviews submitted by verified OpenTable diners for more than 15,000 restaurants in all 50 states and the District of Columbia.
"The fabulous food is only half the excitement at these award-winning restaurants," says Caroline Potter, OpenTable Chief Dining Officer. "Under the guidance of sommeliers, these expansive and unique wine lists span adventure, education and value. You're guaranteed to find a perfect pairing at any of these standouts."
"We relish the rare opportunity to cook in such an extraordinary wine growing region. To reflect our admiration for and pride in our local bounty, our wine list focuses specifically on Oregon wines, with many selections coming from local, artisan producers. Pinot Noir is the heart of the list with over 500 individual pinots from which to choose," notes Chef Christopher Czarnecki of the Joel Palmer House.
"Our cooking at the Joel Palmer House revolves around wild, Oregon mushrooms gathered by hand and many other locally produced ingredients, therefore the pairing of our dishes with wines from our local region creates a taste sensation that is unbeatable! We invite you to experience it for yourself," concludes Chef Czarnecki.
The Diners' Choice Awards for the Top 100 Wine Lists in the U.S. are generated from more than 5 million reviews collected from verified OpenTable diners between October 1, 2012, and September 30, 2013. All restaurants with a minimum "overall" score and number of qualifying reviews were included for consideration. Qualifying restaurants were then scored and sorted according to the percentage of qualifying reviews for which "notable wine list" was selected as a special feature.
About The Joel Palmer House Restaurant
The Joel Palmer House's innovative and exciting menu features choice local produce, wild mushrooms and Oregon truffles. Chef Christopher Czarnecki and family strive to incorporate seasonal ingredients and use many locally grown vegetables, including many from their own on-site garden. Chef Christopher Czarnecki has created a tantalizing, creative menu that marries perfectly with the world renowned Pinot Noir of Oregon's Willamette Valley. Of note, the Joel Palmer House ranks as one of Oregon's finest historic homes and is on the National Register of Historic Places and the Oregon Historic Register. Built in 1857, the house is Dayton's oldest standing structure. When weather permits, guests can enjoy their dinner on our outdoor patio, soaking in the last rays of sunshine in the heart of Oregon Wine Country.
About OpenTable Reviews
Originally launched in November 2008, the OpenTable Reviews program helps diners find restaurants that best fit their dining occasions. Diners who recently honored an OpenTable reservation are invited via email to submit restaurant feedback using an online form. Visitors to OpenTable can access reviews for thousands of OpenTable restaurant partners across the United States, Canada, and the UK. The OpenTable Reviews program has generated more than 20 million reviews by verified diners, establishing OpenTable as one of the largest and most trusted sources for restaurant reviews.
About OpenTable
OpenTable is the world's leading provider of online restaurant reservations, seating more than 12 million diners per month via online bookings across approximately 28,000 restaurants. The OpenTable network connects restaurants and diners, helping diners discover and book the perfect table and helping restaurants deliver personalized hospitality to keep guests coming back. The OpenTable service enables diners to see which restaurants have available tables, select a restaurant based on verified diner reviews, menus and other helpful information, and easily book a reservation. In addition to the company's website and mobile apps, OpenTable powers online reservations for nearly 600 partners, including many of the Internet's most popular global and local brands. For restaurants, the OpenTable hospitality solutions enable them to manage their reservation book, streamline their operations, and enhance their service levels. Since its inception in 1998, OpenTable has seated more than 490 million diners around the world. The Company is headquartered in San Francisco, California, and the OpenTable service is available throughout the United States, as well as in Canada, Germany, Japan, Mexico, and the UK. OpenTable also owns and operates toptable, the leading consumer destination site for restaurant reservations in the UK. More information is available on http://www.opentable.com.
OpenTable, OpenTable.com, OpenTable logos, toptable and other service names are the trademarks of OpenTable, Inc. and/or its affiliates