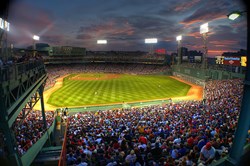 Denver, Colorado (PRWEB) October 30, 2013
It's just the kind of Fall Classic baseball fans hope for. Tight, tense games decided by one or two strikes, hits, tags or errors – as two tenacious, evenly matched teams battle down to the wire.
After splitting the first two games at Fenway Park, the Boston Red Sox went 2-1 against the St. Louis Cardinals at 43,975-seat Busch Stadium in St. Louis, and are now one game away from the title.
The series returns to Boston tonight for Game 6 at 37,499-seat Fenway Park, starting at 7:30 p.m. EST, triggering the highest resale ticket price in the city's history. Game 7, as necessary, is scheduled for Thursday night at 7:30 p.m.,on October 31, 2013, otherwise known as Halloween.
With one win at Fenway, the Sox will earn their third championship (2004, 2007) in 10 years and first Fall Classic clincher at home since 1918. The St. Louis Cardinals must win tonight to stay in the series, and again tomorrow night to take home the crown, also their third (2006, 2011) in a decade.
"This year's Fall Classic has lived up to fans' expectations and both Busch Stadium and Fenway Park have been filled to capacity," said Felina Martinez at online ticket marketplace BuyAnySeat.com.
"We're also seeing heavy traffic in NBA Basketball tickets, as the 82-game regular season began last night. That's why we're proud to offer fans the most complete and continuously updated selection of sports tickets online, with a worry-free guarantee to protect their purchase.
"To access the full line-up of World Series tickets now available, customers can go to BuyAnySeat.com and click on either the Boston Red Sox or St. Louis Cardinals – then select their tickets," said Martinez.
Boston and St. Louis both finished the regular season with 97-65 records, the best results in each league. It's the first time since 1999, in the New York Yankees and Atlanta Braves match-up, that the two teams with the best records have met in the series.
The Cardinals beat the Red Sox in the World Series in 1946 and 1967. The Red Sox returned the favor with a sweep in 2004 that broke their so-called 86-year "curse", aka a World Series championship drought.
According to baseball pundits, there are more similarities than differences between the two teams. Both are proud, traditional franchises with over 100 years' worth of history. Both play ball exceptionally well at home. Both managers, Mike Matheny with St. Louis and John Farrell with Boston, are still very early in their careers.
The Red Sox (+197) and Cardinals (+187) had the two best run-differentials in the majors. Each club has a strong rotation and good bullpen. Each is athletic and very strong fundamentally. Each has pop – David Ortiz and Mike Napoli in Boston – and Carlos Beltran, Matt Holliday and Allen Craig for the Cardinals.
Coming from last season, however, there are big differences. In 2012, the Red Sox finished in last place and underwent a roster overhaul. The Cardinals, on the other hand, came just one game shy of making their second straight World Series last season.
The Boston Red Sox, founded in 1901, won the first World Series as the Boston Americans in 1903 and have appeared 12 times, winning seven for a .636 winning percentage.
The St. Louis Cardinals, founded in 1882, are the oldest team in baseball along with the Pittsburgh Pirates. The Cards have made 19 World Series appearances, winning 11 for a .611 winning percentage.
The opportunity to see the Boston Red Sox win a World Series at home for the first time in a lifetime has turned Game 6 at Fenway Park into the most expensive local ticket in the city's history, added Martinez.
As of 10 a.m. ET Tuesday, the average list price on the resale market for a ticket to Wednesday night's game was $1,860, according to TiqIQ, a ticket tracking company.
Bleacher seats to the game, on sale for $300 last week, were selling for $1,100 on Tuesday morning as well.
To shop for World Series tickets, visit BuyAnySeat.com.
About BuyAnySeat.com: An online ticket marketplace, BuyAnySeat.com connects sports, theater and other live entertainment fans to an extensive worldwide network of ticket sellers. The site's simplified listings and navigational tools enable fans to easily locate, compare and purchase inexpensive, discounted or lower-priced tickets to virtually all advertised sports and entertainment events around the globe.
The marketplace, which is PCI-compliant and Norton Secured, also provides customers with a complete Worry-Free Guarantee on all ticket purchases. Based in Denver, Colorado, BuyAnySeat.com is a subsidiary of Denver Media Holdings. For more information, please visit http://buyanyseat.com.