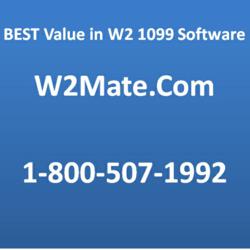 W2 Mate is everything business filers need for W2 1099 compliance without the rampant costs and resource expenditures.
Chicago, IL (PRWEB) March 11, 2013
With the 2013 1099 electronic filing deadline less than 3 weeks away, Real Business Solutions (W2Mate.com) have a released a new 1099 E-filing module with simplified user interface. Business 1099 filers and accounting professionals can meet the 2012 / 2013 1099 electronic reporting requirements by using utilizing the powerful features offered by this module.
Through W2 Mate, the W2 1099 reporting solution offered by Real Business Solutions, users can prepare, print and E-File the most common types of 1099 and 1098 forms. The tax form filing software is trusted by thousands of users nationwide each year. W2 Mate current clients include accounting firms, banks, hotel chains, universities, municipalities, factories and hospitals, to mention a few.
A free 2013 1099 electronic reporting software evaluation can be downloaded from http://www.W2Mate.com. Customers can purchase the software and receive it instantly.
W2 Mate also implements the requirements and specifications for electronic filing under the Combined Federal/State Filing Program. Through the Combined Federal/State Filing (CF/SF) Program, IRS will forward original and corrected information returns filed electronically to participating states for approved filers.
The following information returns (currently supported by W2 Mate)may be filed under the Combined Federal/State Filing Program:
Form 1099-DIV Dividends and Distributions
Form 1099-INT Interest Income
Form 1099-K Payment Card and Third Party Network Transactions
Form 1099-MISC Miscellaneous Income
Form 1099-OID Original Issue Discount
Form 1099-PATR Taxable Distributions Received From Cooperatives
Form 1099-R Distributions From Pensions, Annuities, Retirement , etc.
W2 Mate can also E-File the following IRS W2 / 1099 forms:
1098-T Tuition Statement.
1099-B Proceeds From Broker and Barter Exchange Transactions.
1099-S Proceeds From Real Estate Transactions.
1098 Mortgage Interest Statement.
1099-A Acquisition or Abandonment of Secured Property.
1099-C Cancellation of Debt.
W2 Wage and Tax Statement.
W3 Transmittal of Wage and Tax Statements.
If the 1099 information to-be-filed resides inside Intuit QuickBooks (QuickBooks Pro, QuickBooks Enterprise, QuickBooks Premier), Microsoft Dynamics (GP or SL), Sage Peachtree, Sage 50, Sage DacEasy or Excel, then W2 Mate is definitely the right solution for the job. W2 Mate has a unique mechanism for importing data from different accounting and payroll software to allow users print and E-Fuke a wide range of w2 and 1099 forms.
W2 Mate Software Highlights:

Supports 1099MISC, 1099K, 1099INT, 1099DIV, 1099R, W2, W3, 1096, 1099S, 1098T, 1098, 1099A, 1099B, 1099C, 1099PATR, 1099OID.
Supports an unlimited number of 1099 Filers and unlimited number of employees and 1099 recipients.
Complies with 2012 IRS Specifications for Filing Forms 1099 Electronically and complies with SSA Specifications for Filing Forms W-2 Electronically (EFW2).
Fills in pre-printed 1099 Copy-A forms and prints other 1099 copies such as recipient and payer copies on plain paper using black ink.
Generates ready-to-email 2012 W-2 forms and 1099 forms. Which eliminates the need to print and email W2s and 1099s.
Government -approved to print W-2 and W3 tax forms on regular paper including federal copies.
Imports data from Intuit QuickBooks (QuickBooks Pro, QuickBooks Enterprise, and QuickBooks Premier), Microsoft Dynamics (GP or SL), Sage Peachtree, Sage DacEasy or CSV/ Excel.
Efficient and intuitive manual W2 / 1099 data entry.
Automatically calculates Social Security and Medicare taxes. For paper filers 1096 and W3 are automatically generated.
Supports Windows 8, Windows 7, Windows Vista, Windows XP, Windows Server 2003, Windows 2000 or Windows 98.
Roll-over of payer and recipient information from year to year.
Password protection and data validation.
Generates printing labels, form totals and recipient lists.
Prompt, courteous and reliable U.S.-based support through phone, chat or e-mail.
Network ready with affordable pricing for multiple seats.
Exports W2s and 1099s to excel.
Free downloadable updates.
TIN matching and verification including reports for missing TINs and TIN matching errors.
Built-in links to form instructions and websites for the IRS, SSA and government tax agencies.
Supports foreign recipient address for 1099 forms (such as Canadian).
Imports W2 data from EFW2 format.
Includes 2012 form 1099 instructions.
A free 1099 printing & E-Filing software demo can be downloaded by visiting http://www.W2Mate.com/.