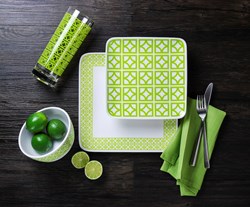 Their mid-century inspired designs are unique, extremely popular and timely. It's a clean, graphic look for which we know there is a great demand.
Palm Springs, California (PRWEB) November 05, 2013
Destination PSP, a high-end merchandising, branding, and marketing company offering quality product lines and concepts, has partnered with Macys.com, which now offers the company's Palm Springs-inspired Melamine and acrylic collection of drink ware, serving dishes, and dinnerware. The line features quintessential mid-century designs that echo the patterns used in concrete blocks, privacy screens, etc. that are hallmarks of mid-century modern architecture.
"As a nod to the many modernist neighborhoods located in Palm Springs, we decided to name the collection Sunmor," explains Jeffrey Bernstein, co-owner of Destination PSP, a seasoned veteran of the entertainment industry and international retail world. "Sunmor is a well-known central Palm Springs neighborhood comprised of a remarkably intact collection of mid-century homes built in the late 50s and early 1960s."
A majority of the company's merchandise is made regionally, with sustainably produced packaging manufactured in Riverside County. The company, whose partners include Bernstein, Clark Bason, and Dr. Oscar Chamudes, introduced its Sunmor Collection during a reception on February 8th at Raymond | Lawrence, the popular retail incubator in the heart of the Palm Springs Uptown Design District. Destination PSP has been named an official merchandise designer for Modernism Week, Palm Springs International Film Festival and several other Palm Springs icons.
Destination PSP is working in partnership with renown and highly successful designer Laurie Gates on this initial venture with Macys.com. Laurie Gates' name is synonymous with beautiful and quality melamine and ceramic tableware collections. "I'm very excited to be working with Destination PSP with their Sunmor Collection," says Gates. "Their mid-century inspired designs are unique, extremely popular and timely. It's a clean, graphic look for which we know there is a great demand."
Operated by Macy's, Inc., Macys.com is one of the nation's premier omnichannel retailers, with fiscal 2012 sales of $27.7 billion. The company operates the Macy's and Bloomingdale's brands with about 840 stores in 45 states, the District of Columbia, Guam, and Puerto Rico under the names of Macy's and Bloomingdale's; the macys.com and bloomingdales.com websites, and 12 Bloomingdale's Outlet stores. To see the Sunmor collection by Laurie Gates at macys.com please go to macys.com and enter search keyword Sunmor.
Destination PSP originally debuted with five distinct collections: Desert Modern Oasis, Rainbow, Icons, Legends & Lore, PS I Love You, and Palm Springs Living. It is part of their mission to be civic minded by working with companies and charitable organizations throughout the area to enhance their brand image and awareness with quality resale merchandise.
All Destination PSP collections are currently available on-line at http://www.destinationpsp.com and at Raymond | Lawrence. Plans are in the works to open additional retail outlets throughout Palm Springs and the Coachella Valley.
For the latest news and product information, visit http://www.destinationpsp.com.