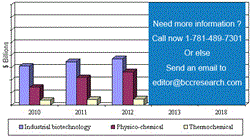 Wellesley, Mass. (PRWEB) November 13, 2013
According to a new technical market research report, Biorefinery Technologies: Global Markets from BCC Research (http://www.bccresearch.com), the global market for biorefinery technologies was valued at nearly $343 billion in 2012 and is expected to reach nearly $388 billion in 2013. BCC Research projects the market to grow to $700 billion by 2018, and register a five-year compound annual growth rate (CAGR) of 12.6% from 2013 to 2018.
For the first time since 1949, the United States has become a net petroleum product exporting country, having edged out Russia as the world's largest refined petroleum exporter. A simple explanation would point to lower demand and a struggling economy that requires less imported energy, but that is only half the answer. U.S. oil demand has fallen by some two million barrels per day since its peak in 2005 in part due to the recession, but also due to a structural change due to demographic changes, policies on fuel efficiencies and the mass-commercialization of technologies.
The more exciting part of the answer is on the supply side, as the U.S. has become the fastest-growing oil and natural gas-producing area of the world. It is now the most important marginal source for oil and gas globally. Combined with a steadily growing Canadian production and a comeback in Mexican production, this has resulted in a higher growth rate than all members of the Organization of the Petroleum Exporting Countries (OPEC) can sustain over the next five years to 2018.
Biofuels account for just 1% of global fuel consumption for transportation, and the substitution of oil-based fuels is only 1.8% in the U.S., but in Brazil, it reaches 20%. Latin America is one of the regions with the most potential to offer biofuels given its climatic advantages combined with low population density.
This report provides a complete techno-economic and environmental analysis of industrial biorefineries, which have been identified as the most promising route to the creation of a domestic bio-based industry. Both historic and current data have been used in the demand analysis for this report. The results of the calculations presented here are therefore based on three components: a historic analysis of the demand in the period 2010 to 2012, estimated data for 2013 and forecasted demand for the period through 2018. The report is a straightforward calculation of likely biorefinery demand generally based on the public policy requirements that countries will be putting into place during the study time period.
In its analyses, this report highlights those countries expected to be major biorefinery products exporters, as well as those countries that will likely need to import to meet expected mandates. This report also reflects BCC Research's view based on its projections of whether biorefinery mandates enacted will likely take effect as expected (for most of the countries included in this study, BCC Research finds that they will, although at varying time frames).
This BCC Research biorefinery technologies report is designed to satisfy the information required by anyone concerned with the development of agriculture, energy, and fuels.