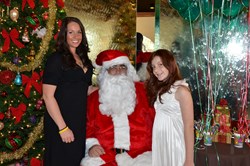 Children 4 years old and under eat complimentary at Via Brasil Steakhouse
Las Vegas Nevada 89117 (PRWEB) December 11, 2013
This Best of Las Vegas Brazilian Steakhouse is inviting all families for Brunch with Santa Claus on Sunday December 15th and December 22nd 2013 from 10am to 2pm.
Via Brasil Steakhouse Sunday Brunch price for Adults is $24.99, Children 4 years old and under eat complimentary, children 5-6 years old brunch price is $4.99 and 7-12 years old price is $16.99.
Sunday Rodizio Brunch Menu includes:
Seven Meats served table side AYCE
1. Picanha (Top Sirloin) *Our Signature Cut of Meat
2. Filet wrapped in Bacon
3. Turkey wrapped in Bacon
4. Prime Rib
5. Chicken Drumsticks
6. Smoked Ham & Pineapple
7. Brazilian Pork
Two Side Dishes & Fresh Home Made Breads
1. Fried Banana
2. Mashed Potatoes
3. Pao De Quejo *our signature Brazilian Cheese Rolls
4. Zucchini Bread
5. Banana Nut Bread *Extra Sides by request
Made-To-Order Eggs, Omelets & Waffles
1. Serving Eggs any style
2. Omelets with toppings of your choosing
3. Via Brasil Signature Filet Mignon Eggs Benedict
4. Via Brasil Signature Salmon Eggs Benedict
5. Waffles
6. Pancakes
The Gourmet Breakfast and Brunch Appetizer Bar includes 35+ options of Hot and Cold Brunch Dishes. All dishes are made fresh daily and may change by Season.
1. Clams
2. Hash Browns
3. Bacon
4. Sausage
5. Mussels
6. Risotto
7. Penne & Cheese
8. Eggplant
9. Squash
10. Zucchini
11. Caesar Salad
12. Caprese Salad
13. Potato Salad
14. Mixed Spring lettuce
15. Pasta Salad
16. Assorted Fine Cheeses
17. Prosciutto
18. Cured Salami
19. Cured Ham
20. Portobello mushrooms
21. Beets
22. Cherry Tomatoes
23. Broccoli/Cauliflower
24. Olives
25. Beef Carpaccio
26. Seafood Salad
27. Chicken Salad
28. Hearts of Palm
29. Bok Choy
30. Roasted peppers
31. Corn and Black Bean Salad
32. Artichoke Hearts
33. Carrots
34. Fresh Fruits
35. Soup of the Day
About Via Brasil Steakhouse:
Via Brasil Steakhouse is a Brazilian Steakhouse/Churrascaria located on 1225 S. Fort Apache Road LV NV 89-177, offering diners the unique service style of Rodizio Dinner, featuring 18 Meats served tableside, Gourmet Salad/Appetizer Bar and 16 side dishes all you can eat for a fixed price of $45.99. Children 4 years old and under Rodizio Dinner is free and Children 5-6 years old dinner is only $4,99 and Children 6-12 Years old Rodizio Dinner Adult half price .
*Every Sunday join us for Rodizio Brunch. 10AM - 2PM enjoy one of Las Vegas Best Brunch's with over 50 items All-you-can-Eat. Featuring 6 succulent Meats served tableside, Chef's Made to Order Omelet and Waffle Station and Gourmet Salad bar filled with great brunch options for $24.99.
*********************************************************
Xmas Eve – Dec. 24, Dinner hours 3pm – 9pm. Regular Rodizio Dinner Menu in a Dining room with 20 Meats, Salad Bar and 18 Side Dishes AYCE for $45.99 includes smoked ham. All guests will receive a $20 dining cards.
**********************************************************
Xmas Day – Dec. 25, Lunch 11am -2:30pm. $38.99 (Last reservation at 2pm) 12 Meats will be offered plus smoked ham, Salad Bar with 35 hot and Cold Appetizers and 4 Side Dishes AYCE Regular Rodizio Dinner Menu in a Dining room with 20 Meats, Salad Bar and 18 Side Dishes AYCE 3pm – 8:30pm $46.99 Salad Bar with 35 Hot and Cold Dishes for $28.99 all Day. All guests will receive a $20 dining cards.
**************************************************************
NYE – Dec. 31 - 1. Dinner Regular Rodizio Dinner Menu in a Dining room with 20 Meats, Salad Bar and 18 Side Dishes AYCE 4pm – 9pm $46.99 Kids Dinner 7 -12years ½ Price $23.50. 5 & 6 years old Children price $4.99 NYE Dinner Party 10pm – 2am seating 10, 10:15, 10:30 & 10:45 $79.99 Dinner and dessert Kids 7 -12years ½ Price $40. 5 & 6 years $4.99 Couples Champagne Package $220 including 2 dinners, 2 desserts and one bottle of champagne Open Bar Package with Dinner, soda, coffee tea and dessert with Open Bar for 2 hours for $125 each DJ&Dancing.All guests will receive a $20 dining cards