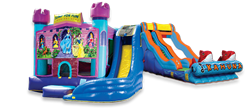 New York, New York (PRWEB) December 09, 2013
JumpForFun, the premier bouncy castle provider, is pleased to announce its expansion into Dallas. JumpForFun is pleased to unveil its new landing page: http://www.jumpforfun.com/local/Jumpers-In-Dallas.html - providing live pricing updates to individuals in Dallas, interested in renting bouncy castles. Consumers can visit JumpForFun 24/7, and get live updates on pricing for bouncy castles.
About Jump For Fun
JumpForFun is the largest online service provider of jumpers and bouncy castles. Consumers in Las Vegas, interested in finding Jumpers for their party, are encouraged to visit JumpForFun's new web page. JumpForFun offers anything from small jumpers and bouncy castles, to large and exorbitant 5 in 1 Oasis Combo's. JumpForFun's new expansion, and new web page, is updated daily with the best and most accurate pricing. Customers interested in renting a jumper can expect anywhere from 5-15 percent off normal rates. With dozens of locations all over the country, picking JumpForFun as the go-to party rental company makes sense.