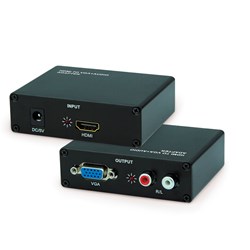 (PRWEB) December 20, 2013
Hiconn Electronics is a leader in electronic devices. Recently, the company has added over 200 latest designs of HDMI to VGA with Audio Adapters to its product category. These new devices come in several different specifications.
According to the marketing specialist of the company, the newly released HDMI to VGA with Audio Adapters are specially designed for the international customers. They are all made with safe and durable materials. All people that place an order for these adapters can enjoy discounted prices, up to 27% off. The special offer is valid until December 31, 2013.
Here is some detailed information about the company's HDMI to VGA with Audio Adapters:
*Model NO.: HVA-3P
*Material: Copper
*Interface Type: HDMI
*Pin: >10Pin
*Application: Computer, Mobile Phone
*Export Markets: Global
*Easy to use, installs in seconds, no settings and it is a resolution pass-through converter
*Purely for conversion between video formats but not convert the *input/output video resolutions
*Support VGA output with 10-bit resolution up to 165Mhz pixel rate (1080p and UXGA)
*Audio output
*Compliant with HDMI 1.4b
*Support HDCP 1.4
*Blister packing
"We are excited to release the brand new adapters. If you are in need of some high end devices, please take a little time to browse through our website. You can find a lot of wonderful items offered at low prices," the marketing specialist says.
About Hiconn Electronics
Hiconn Electronics (Shenzhen Hiconn Electronics Co. Ltd.) is devoted to designing and manufacturing a wide range of connection cables and customized cable assemblies, offering many HDMI cables, VGA cables, SATA cables, USB cables, 1394 cables, DVI cables, SCSI (Small Computer System Interface) and more. For more information, please visit http://www.hiconn.net/.
Contact Person: James Yin (Sales Director)
Company Name: Shenzhen Hiconn Electronics Co., Ltd.
Address: Shenghua Building., Xixiang Road., Baoan District, Shenzhen, Guangdong Province, China
Zip Code: 518102
Tel: +86-755-8109 8345
Fax:+86-755-2779 3497