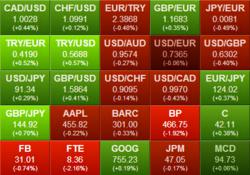 Master Insights, adds yet another free tool for those seeking to becoming a Master Binary Options trader.
Birmigham, United Kingdom (PRWEB UK) 4 February 2013
Master Binary Options have just announced the long awaited launch of a unique and exciting new trading tool, Master Insights. This web app is a radical new step forward in technical analysis by significantly improving the speed of spotting where the best Binary Options trading opportunities are.
Since the U.S. Securities and Exchange Commission approved Binary Options in 2008, the industry has grown by 773% according to Google Trends. Binary Options trading allows traders to easily speculate on global financial markets with 'capped-risk and known profit' instruments which ensures traders are not open to catastrophic losses in the event of unexpected market volatility. Binary Options trading has simplified the previously complex trading environment and additionally with towering profit possibilities available for both new and veteran traders, this astonishing global market expansion is set to continue.
Since their launch late in 2012, Master Binary Options has developed into an essential online portal designed for both novice and experienced Binary Options traders to fully understand and trade profitably. The Master Binary Options team is fully engaged on meeting this increasing demand for creditable online Binary Options resources and market insight applications. The experienced team based in London, currently has one of the largest databases of articles dedicated to reviewing premium brokers, demo accounts, scam alerts, effective trading strategies and free daily market signals.
John Anthony, founder of Master Binary Options comments, "Whether a trader is new to Binary Options trading or a seasoned veteran, options education and market insight apps are always beneficial. We're focused on becoming the ultimate trading support center for our community and this new revolutionary app, Master Insights, adds yet another free tool for those seeking to becoming a Master Binary Options trader."
Master Insights allows traders to visualize market trends in seconds. Isolating the underlying assets of popular Binary Options Brokers, this new application presents traditional financial data in a visual heat map type format. This enables traders to immediately know which stocks; commodities and currencies are outperforming or under performing against trends.
New and seasoned traders will experience two significant benefits from using Master Insights:

Enables ULTRA-Fast Technical Analysis tailored to Binary Options Broker Assets.
One-Click to source the latest 60 minutes, 24 hours or seven day asset price information. This enables traders to quickly identify the historical asset movements.
John Anthony spoke of his own experiences of why this app is so important, "This new app delivers important insights which are crucial for Binary Options traders like myself who don't want to be caught out trading against the market trend. Our Master Insights instantly shows what assets are on the move and what assets traders should be focusing their attention on".
Master Binary Options continues to deliver premium Binary Options trading resources and web-based apps that make the trading experience more enjoyable for traders who require a trusting and creditable hand to commence trading in the exciting and profitable world of Binary Options. For more information visit http://www.MasterBinaryOptionsTrading.com