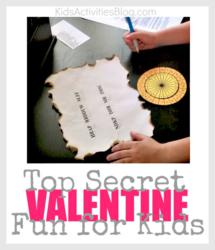 Send a top secret message to the special agent on Valentines Day.
Dallas, Texas (PRWEB) February 01, 2013
Make Valentines special this year. Send out a secret spy message by using the Valentines Day Code template released on Kids Activities Blog. Write a special love message and let the kids have fun deciphering the top secret message.
The activity is easy to do. Print out the top secret letter spin wheel and write a message by following the instructions on Kids Activities Blog. Hide the secret message in a special place and let the kiddos find it like real spies. The kids will love to figure out the top secret message.
Other fun and easy Valentines Day activities for kids that turn this special day into a family day are listed on Kids Activities Blog.
Instead of buying flowers and candy, step back and consider following ideas: Go on a family date; have a 24 hour no complaint time; tell a love story; plan special cuddle time together; create a surprise for someone; first and foremost teach the kids to be grateful, be close and be thoughtful; or simply have a family meal together on that special day.
To get additional ideas to celebrate a fun Valentines Day and to get detailed instructions, check out Kids Activities Blog this month.
About Kids Activities Blog
Kids Activities Blog is a website created by two moms (who collectively have 9 children), Rachel Miller and Holly Homer from June Cleaver Nirvana. It is their daily goal to inspire parents and teachers to play with kids. This interactive website publishes simple things to do with kids twice a day. Kids Activities Blog is a great tool for moms and teachers to find kid-friendly activities that create memories and sneak learning into the fun.