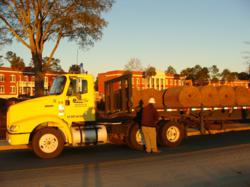 TifBlair Centipede: the most improved and only certified centipede cultivar on the market.
Tifton, GA (PRWEB) February 26, 2013
Abraham Baldwin Agricultural College is renovating and rededicating the original three campus buildings and surrounding landscape: Tift, Herring, and Lewis Halls will again become centerpieces of the campus. This trio of halls now overlooks a revitalized grounds, with sod provided by Super-Sod. Come visit the buildings and grounds, where fresh, new sod is the salient sign of renewal on this historic agricultural campus.
The "Historic Front of Campus Rededication Ceremony" is set for 1:30 p.m. on Friday, March 1 and is open to the public. Stay through the day for live music with festivities culminating in fireworks at 8:30pm.
Super-Sod's involvement in the project rounds out a long-time relationship with the campus. Straight from their farm in Lakeland, GA, they shipped 13 tractor trailer loads of TifBlair Centipedegrass, a tried-and-true cultivar that was developed on the ABAC campus by the University of Georgia and the United States Department of Agricultural. Dr. Wayne Hanna calls TifBlair the "most improved and only certified centipede cultivar on the market."
"It has superior seedling vigor and improved tolerance to low soil pH and cold temperatures," Hanna, a longtime researcher at the Coastal Plain Experiment Station, said. "It prefers lower fertility and adapts well to dry conditions."
Super-Sod and parent Patten Seed Company president, Ben Copeland Sr., is a 1964 graduate of ABAC. Copeland said TifGrand Bermuda and Emerald Zoysia will also be used on the ABAC front lawn to enhance an already spectacular view of the three halls. Likewise, these grasses were developed by UGA and USDA in Tifton.
Hanna said TifGrand is a "dark green and dense hybrid Bermudagrass. It has shade tolerance and performs well under up to 60 percent less light. Emerald is a fine-textured zoysiagrass hybrid. It is a vigorous grass with frost and shade tolerance."
-Special thanks to Mike Chason, Director of Public Relations Emeritus at ABAC, for much of the information in this article.