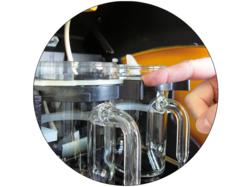 Goshen, NY (PRWEB) February 14, 2013
The HYDROTHERM is a unique, safe, and state-of-the-art product manufactured in Germany by Gerhardt, and distributed here in the North America by Lab Synergy. HYDROTHERM is the only closed, Automated Hydrolysis System specifically used for Hydrolysis and Extraction in the industry for acid hydrolysis.
It is used for various fat determinations but primarily used with the following products: milk, dairy products, cereal products, meat products, cocoa products, oil, oil seeds, bread, bakery products, fruits, fat in feed, lipids in egg products, fat in dietary products, and much more.
The design and functionality of the HYDROTHERM make this a premium product with a multitude of beneficial features such as big windows, interior lighting, monitoring capabilities, hatch, option for PC control, quick start, status display, infa-red-hotplate, and quick clamping device. Due to the closed loop design, there is no outside environmental effect on the hydrolysis, saving the customer both time and money.
HYDROTHERM is paving the way in high efficient Quality Control in the lab, while also reducing costs. It is capable of doing so through its innovated design, high level of automation, and cool water and energy control.
The HYDROTHERM comes equipped with software, HYDROTHERM Manger, and is designed with additional features separating this analyzer from the rest: Clearer overview of the three modules on one screen, thus allowing better testing control both visually and also independently of the software. Individual programming of each module with its two heating places, allows variable testing to be conducted simultaneously. Programming of sample sizes, heating phases and cooling down periods allowing complete variable control on the samples and tests that are being conducted. Designed with three independent systems with three units capable of running six samples simultaneously for higher efficiency.
The HYDROTHERM will be on display in booth #2451 at the 2013 Pittcon Exposition during March 17th-21st. Make sure to stop by and see us.