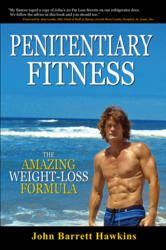 San Diego, Ca. (PRWEB) February 06, 2013
Weight loss author John Barrett Hawkins new book Penitentiary Fitness: the Amazing Weight Loss Formula is based on research studies that were conducted of the world's top universities and medical schools. Over a 10-year period Hawkins compiled and studied hundreds of published studies on the subject of weight loss, and began to identify several common themes. One medical school would discover that a particular food, nutritional supplement, or type of exercise would produce dramatic results; then another research facility would analyze the same stimulus and confirm its effectiveness for weight loss. These findings inspired Hawkins to cross-reference and synthesized the information in the research studies. What emerged were 10 scientifically proven success secrets for weight loss that became the foundation of Hawkins' book.
Penitentiary Fitness: the Amazing Weight Loss Formula is available as a free Kindle e-book (regular price $9.95) for three days beginning Febuary 4.
In Penitentiary Fitness: the Amazing Weight Loss Formula Hawkins identifies 10 tips for weight loss and is on a mission to share this information with others.
Tip # 1
Create a negative energy balance: when you burn more energy through your daily activities than you consume through your diet your body is forced to burn fat for fuel. Stay active.
Tip # 2
Eat lots of plant-based foods (whole grains, fruits, vegetables, nuts): plant-based foods are high in energy density, meaning you get a significant amount of energy for a minimal number of calories.
Tip # 3
Eliminate processed foods from your diet completely: processed foods (cookies, chips, hot dogs, etc.) are high in calories yet provide little nutrition. They also contain man-made chemicals that increase hunger and cause overeating.
Tip # 4
Get a good night's sleep and eat a healthy breakfast: lack of sleep disrupts hormone levels which leads to overeating; a healthy breakfast "sets" your metabolism and prevents binge eating later in the day.
Tip # 5
Drink eight glasses of water every day: drinking water raises your metabolism. Water contains zero calories (a 12-ounce soda contains 200 calories that have no nutritional value).
Tip # 6
Eat A lot of lean protein: the body burns 30% of each protein calorie during digestion versus only 8% for carbs and 2% for fat. Lean low calorie protein sources include – fish, eggs, turkey, chicken, nuts, beans and lentils.
Tip# 7
Eat five or six small meals every day: when you eat large meals your body uses only what it needs and "stores" the rest of fat cells for times of famine.
Tip# 8
Raise your metabolism with high intensity resistance training: muscle requires 60 times more calories than fat for daily maintenance. As you add muscle your body burns more energy just maintaining itself.
Tip # 9
Raise your metabolism with interval cardio: doing cardiovascular exercise where your heart rate is raised in high intensity intervals burns more calories than slow go aerobics.
Tip# 10
Connect with your power of purpose: write down the reasons why you want to lose weight. Then make multiple copies of the statement and put them in places where you can refer to them throughout the day.
Penitentiary Fitness: the Amazing Weight Loss Formula is a 176-page book available at Amazon.com. Read free sample chapters at the author's website http://www.JohnBarrettHawkins.com.