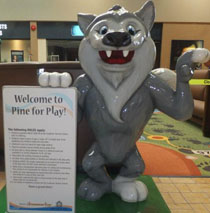 Our traffic is trending up and the play area is certainly playing a role. We are really proud of our play area and people love it.
Prince George, British Columbia (PRWEB) February 04, 2013
Pine Centre Mall serves a large and diverse region of British Columbia. Therefore, when the center decided to offer the community a soft play area, they looked to PLAYTIME to create a custom-designed mall playground that honors the entire region.
As proof of the play area's success, General Manager Sonya Hunt points to Pine Centre's traffic patterns.
"Our traffic is trending up and the play area is certainly playing a role," says Hunt, who spent two years pursuing her vision for a custom-themed, elegant play area to serve the many communities that utilize the center. "We are really proud of our play area and people love it."
Pine Centre Mall, which is managed by Triovest Realty Advisors, is located in Prince George, British Columbia. Because it's located in the region's largest city, the center serves as a shopping hub to communities that are as far away as 700 kilometers.
"People from Quesnel, Vanderhoof and Mackenzie all come here to shop," says Hunt. "I wanted to give them a play area that honored the entire region."
Because her vision required more space and money than the center's original play area plans allowed, Hunt decided to be patient. For over a year, she waited and then, upon receiving more space and money, Hunt immediately called PLAYTIME, LLC and shared her vision.
PLAYTIME is the global provider of unique, interactive, healthy play areas and playground equipment for indoor, outdoor and water play.
"I wanted our play area to include a map of the region and play elements that represent iconic aspects of each community we serve," she says. "I spoke with the designers at PLAYTIME and, when they sent me the initial drawings, they nailed it right away. They got it!"
Another of Hunt's goals was to make sure the play area blended well with the rest of the shopping center's décor. "It is very high-end and posh. It looks very rich and elegant."
Hunt and her marketing team track traffic to the play area and are able to quantify trends.
"We average 1,500 children a month," she says. "Parents sign in and out, so we know the number of children and their length of stay. That data becomes part of our planning process."
Overall, Hunt believes that her shopping center should be a "good citizen" for the communities that it serves, which, she says, also helps the shopping center to succeed.
"Anything you can do to improve customer service improves your bottom line. Everyone wins."
PLAYTIME's themed soft play areas drive traffic and enhance customers' brands. Thousands of families experience PLAYTIME every day at shopping centers, restaurants, airports, stadiums, childcare, healthcare centers, fitness centers, churches, resorts, recreation centers, water parks and museums – any place that kids play.