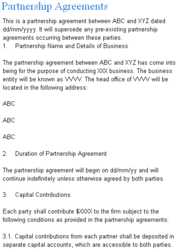 Partnership agreement solves many issues including future conflicts, and enable quick decision making. Partnership document is a crucial piece of document for a successful partnership firm.
New york, NY (PRWEB) February 10, 2013
Laws.com announced the launch of Partnership Agreement form in its legal document section. This launch allows the user to download the Partnership Agreement form at no cost. The Partnership Agreement form launch marks the first small business form launch by laws.com in 2013.
Laws.com legal document section made a milestone with the addition of the Partnership Agreement document.The Partnership Agreement is a very important piece of document for establishing a partnership business. The Agreement outlines the role and responsibility of the partners, capital contribution from each partner, terms of the agreement, profit and loss sharing, duration of the agreement, dissolution of business, and various other information related to running the business.
Laws.com legal document section already has various business and commercial agreements that are open to the general public for free download. The launch of the form targeting the entrepreneurs comes at a time when the national unemployment rate is at all time high and an increasing number of people venture into starting up businesses. A partnership agreement solves many issues including future conflicts and enables quick decision making. A partnership document is a crucial piece of document for a successful partnership firm.
The free Partnership Agreement form helps small business start-ups as they have limited funds and have to cut their start-up cost. Laws.com do-it-yourself form allows people to fill the partnership form on their own and helps to void expense on hiring 3rd party legal service. The newly launched partnership agreement document can be downloaded from laws.com. The partnership agreement is printer friendly; user can copy the agreement to MS word and make necessary change to the agreement before printing it out.
The Partner Agreement from laws.com covers the following topics:

Partnership Name
Details of duration of Partnership Agreement
Capital Contributions
Sharing of Profits and Losses
Management Responsibilities
Financial Accounting
Banking and Operating of Working Capital
Dissolution of the Partnership
Death of a Partner
The form can be downloaded from the following laws.com partnership agreement template page. To download various complimentary business incorporation forms and other business forms to start a business visit laws.com business forms section
Laws.com is one of the largest online legal website for free legal forms and legal information. The site legal resources provide various legal topics like immigration, family, tax, will, elder law, criminal, copyright, personal injury, bankruptcy, business, real estate, intellectual property.