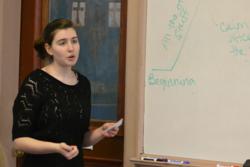 I had no idea that the students would respond with such enthusiasm and creativity.
Mt. Clemens, MI (PRWEB) February 01, 2013
The National Center for Educational Statistics reported that "twenty-four percent of students at both grades 8 and 12 performed at the Proficient level in writing in 2011...
Fifty-four percent of eighth-graders and 52 percent of twelfth-graders performed at the Basic level in writing in 2011." (http://nces.ed.gov/nationsreportcard/pubs/main2011/2012470.asp) In addition only 3% of eighth-graders performed at the Advanced level. (http://nces.ed.gov/pubsearch/pubsinfo.asp?pubid=2012470) Some argue that this is the result of the increased use of technology by these students.
In order to improve these numbers, Jacquelyn Eubanks, 15 year old author of the novel, The Last Summer developed and presented a program to 8th grade students with surprising results. Jacquelyn met with 8th grade students in an attempt to share strategies for writing great stories. In addition to becoming enthusiastic about writing, the students ended up revealing the struggles that they were facing in their own lives.
Kathleen Falk, 8th Grade Teacher, was amazed at what occurred in her classroom as a result of the exercises that Jacquelyn Eubanks did with her students. As part of her program, students begin the process of creating characters, settings and plots. When asked to share their story lines, they ended up revealing much more than anyone expected. The students revealed their own struggles with self control, self esteem, bullying and peer pressure. Student comments following the program indicated that several were at least considering writing as a career. One 8th Grade Student from St. Mary's School in Mt. Clemens, MI stated, "It makes me think that possibly some day I could write a book."
As an Award Winning Author, initially Ms. Eubanks just wanted inspire young writers and to share how she created the characters and setting for her novel, The Last Summer. She was pleasantly surprised to find that the programs took on a life of their own and gave students a forum to share their ideas & creativity. She is looking forward to working with more students in the future.
Jacquelyn Eubanks was selected as an Award Winning Finalist in the 2012 USA Book News Awards. She is currently a sophomore at Cardinal Mooney High School in Marine City. In addition, she plays basketball, softball and is a Girl Scout working on her Gold Award. She is looking forward to the release of the sequel of The Last Summer, THE LAST TIME (http://www.JacquelynEubanks.com).
Visit http://nces.ed.gov/nationsreportcard/pubs/main2011/2012470.asp for an Executive Summary of the assessment.