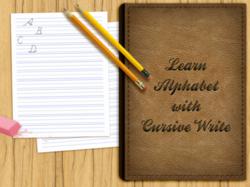 Ahmedabad, India (PRWEB) February 02, 2013
Dev IT Solutions is a renowned company that develops quality applications for mobile and web. Now, the company has introduced some marvelous mobile apps to nourish the knowledge of kids at their early stage. The application is designed for iPad and iPhone presently but will soon be launched for Android, Blackberry and Windows Mobile. The "learn Alphabet with cursive write" teaches kids to get familiar with alphabets, spellings, sentence construction and writing at the same time. The cursive writing can be fun to learn and your children will never get bored of writing as the app is designed so creatively. It keeps a child engaged for hours.
A senior spokesperson from Dev IT solutions spoke about this wonderful app, He said, "The app teaches the kids to understand the alphabets in lower case and join them together to form words. Learning cursive writing becomes fun as the app is designed with amazing digital graphics, sounds, etc. The app responds to the child touch and teaches word recognition. To learn reading and spelling, one can even join, "the kids English room" on the iPhone and iPad through these links. iPhone - IPad - As children have their natural way of understanding things, these apps make learning fun and interesting unlike the obsolete boring ways which are erased from their memory soon. Thus, these apps help the child to focus on learning through creative ways."
These Apps are designed to create interest of the child in learning and form words and spelling. You get A to Z flash cards, cursive writing, and the speech option improves pronunciation.
For more information on such creative apps, please visit http://www.devitsolutions.com/devitmobileapplication/
About Dev IT Solutions
Dev IT Solutions is one of the leading companies providing cutting-edge solutions for Mobile Application Development on various platforms. It has a dedicated team for Development of Mobile Applications i.e. iPhone Application Development, Android Application Development, Blackberry Application Development and Window Mobile Application Development.
Contact:
Dev IT Solutions Pvt. Ltd.
A-302, Shapth Hexa, Opp. High Court
S.G. Highway, Sola - 380060
1-760-621-3474
info (at) DevITSolutions (dot) com
iPhone, iPad are trademarks of Apple Inc., Android is trademarks of Google Inc., Blackberry is trademarks of RIM Inc., Windows is trademarks of Microsoft Inc.