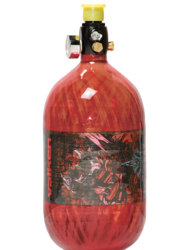 Paintball tanks starting at $29.99 best deals ever
Morgan Utah (PRWEB) February 01, 2013
Paintball tanks for $29.99 are being offered at Action Center and Paintballguns.tv.
HPA Paintball Tanks and nitrogen paintball tanks
When it comes to paintball tanks a nitrogen tank is really just a compressed air tank, or H.P.A. tank. The air humans breathe is mostly nitrogen, 78% in fact, and as such there is very little difference between pure nitrogen filled paintball tanks, and high pressure air fills. In fact, pure nitrogen is rarely used in filling paintball guns anymore. As soon as it expands it cools just like all other gasses. Then as it compresses in the tank it warms the tank pretty quickly, and unlike CO2 it does not condense into liquid and therefore does not get cold or freeze up your paintball gun. For this reason it is thought to be as a greater foundation for propulsion. It is a paintball player's best choice for an air tank. Nitrogen tanks are capable of either being crammed with compressed air or pure N2.
High Pressure Air systems are more expensive but are still chosen over CO2. These air sources are usually used by individuals that participate habitually in paintball along with having tournament-grade markers.
Fiber wrapped tanks are less in weight and handle more PSI than a Steel H.P.A. tank. They are also a little more expensive however steel tanks merely have 3,000 PSI versions. When looking for paintball tanks you have found the best.