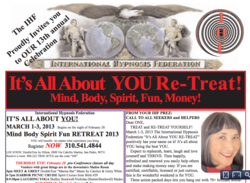 Lively Radio Show with Dynamic and Creative Guests sharing tools for fulfilling life with Dr. Carol Francis, Psychologist.
Los Angeles, CA (PRWEB) February 06, 2013
Professionals in the fields of Hypnosis, Reiki, Tarot, Quantum Healing, Hypnotic Massage, Chakra Systems, Kabalistic Paths, and Powerful Money Making Tools are topics of today's Dr. Carol Francis Radio Talk Show. Each guest will be in Los Angeles March 1-3 at the International Hypnosis Federation Conference, "It's All About YOU!" which is a fun, diverse and busy Body, Mind, Spirit and Money Conference.
Experts Dr. James Wanless, Kathi Kennedi, Nina Rehzats, Teresa Figueroa, and Suzy Prudden join Psychologist Dr. Carol Francis on Dr. Carol Francis Radio Talk Show, which is internet accessible at http://www.blogtalkradio.com/dr-carol-francis/2013/01/21/mystical-psychic-healing-hypnotic-fitness-empowerment . Each guest addresses Body, Mind, Spirituality, Hypnosis, Healing, Self-Improvement. This radio program anticipates the Los Angeles Area March Conference sponsored by International Hypnosis Federation. Registration for the Conference and more information can be attained at: http://www.hypnosisfederation.com or 310.541.4844.
Information about this Dr. Carol Francis Radio Talk Show Guests includes:
Kathi Kenedi who has been practicing and teaching hypnosis and energy healing, Internationally, for over 10 years and is currently located
in the Sierra Foothills of Northern California. Through her studies and experience, she has developed unique healing modalities such as Genetic Consciousness and Hypno-Reiki. She will be teaching both courses at the IHF Conference on March 1 – 3, 2013 in San Pedro California. Kathi Kennedi is a  Certified Transpersonal/Clinical Hypnotherapist and Energy Healing Practitioner and  has combined hypnosis and energy healing to facilitate a powerful mind, body, and spirit experience. Kathi says, "By addressing the whole person, all things are possible. Each person has the ability to heal themselves and improve their lives by activating their inner resources." She knows this first hand after healing herself of Multiple Sclerosis. Kathi is owner of Bottom Line Hypnosis, and along with being a Hypnotherapist, she is also a Certified Spiritual Counselor/Instructor and Reiki Master Teacher.
She is an IHF Advisory Board Member, and recipient of the prestigious "Award of Excellence" for Transpersonal Hypnosis. For interviews or services Kennedi can be reached at 530-264-8885, e-mail: Kathi@botommlinehypnosis.com , or go to her website:http://www.bottomlinehypnosis.com
Nina Rezhets is a certified Master Hypnotist specializing in Metaphysical Hypnosis.
She published her first book, a metaphysical novel, ALEX, in 2010.  She is working on her next book, SEFER NATIVOT, (Path Less Traveled) using Kabalistic Tree of Life and its Paths in everyday life. Nina has been a teacher as well as a student of Kabalistic Tree of Life and Path working, world mythologies, magic, and esoteric traditions.
Teresa Figueroa is a Hypnotherapist, Hypno-Massage Practitioner, Yoga/Stretch teacher, Reiki Teacher, and has assisted an Olympic athlete to bring home the Gold with her tools. She and Nina Rehzats have created the Quantum Reprogramming approach to changing habits, impact of past traumas, or improving life. They will be teaching collaboratively at the International Hypnosis Federation Conference called, "It's All About You!'
Dr. James Wanless explores the Jungian unconscious modality of Tarot Card explorations into self-improvements with his modern version of The Voyager Deck. His international reputation precedes him. At the International Hypnosis Federation Conference, "It's All About You!," Dr. Wanless will be teaching courses on spiritual enlightenment and self-improvement with well-known Richard Supten during this March 1-3, 2013 Los Angeles are Body, Mind, Spirit and Money Conference with over 80 other professionals.
Today's program concludes with Money Making Guru, Suzy Prudden. Suzy has worked with Louise L Hay and shared the stage with Bob Proctor, Mark Victor Hansen, Deepak Chopra, Caroline Myss, Doug Wead, Larry Wilson, Byron Katy, John Bradshaw, John Gray, Rev. Mary Mannin Morrissey, Rev. Michael Beckwith, Christopher Haggerty, Gary Craig, Jean Houston, Stuart Emery, Gary Zukov, Cherie Carter-Scott, Marianne Williamson, Dr. John DeMartini, Jay Abraham, Berny Dorhman, Dr. Pat Allen, Debbie Ford, Cynthia Kersey, Ariel Ford to name a few. Suzy Prudden has created success programs for Arco Petroleum, DuPont Corporation, Clairol, Farmers Insurance, Merle Norman Cosmetics, Serta Mattress, EDD, New York Life Insurance, American women Business Owners, Body Image Council, California Women in Advertising, Effective Change Consultants (The Haag, The Netherlands), Imperial Valley College, Great Lakes Conference on Addiction and Mental Health, IONS National Conference, Management Consulancy (Zurich, Switzerland), Mercy Hospital, President's Council on Physical Fitness and Sports, and more… Suzy Prudden has appeared on Oprah, Good Morning America, and The Today Show.
Deepak Chopra says, "Based on trusting your inner intelligence, Prudden's program is logical and straightforward, and most important, it works."
The New York Times says, "If Suzy is talking about it today, the rest of the country will be talking about it tomorrow."
Dr. Carol Francis, Psychologist, Marriage, Family & Child Therapist, and Hypnotherapist in the Los Angeles and South Bay Area, has hosted this radio show since 2008 along with her television program through PunchTV Network from 2008-2010.
# # #