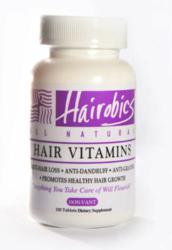 Anything you take care of will flourish.
Los Angeles, Califonia (PRWEB) February 02, 2013
Hairobics offers you an innovative line of natural hair products that can be used for all types of hair. They are crafted from organic hair oil ingredients. The firm has more than twenty of years of experience in this industry. The knowledge gained over the years has been used to develop natural hair oils that are of the highest quality possible. These hair growth products not only help the users with hair growth, but they also help them with other conditions like dandruff and itchy scalp. The company uses only the finest minerals, herbs, vitamins and amino acids in their hair oil. Subsequently, when they are applied to the scalp, it results in healthy and rejuvenated hair. This firm takes pride in the fact that all their shampoos are scientifically formulated. One can find their catalogue well stocked with healthy conditioners, hair care vitamins, therapeutic shampoos and scalp rejuvenators. All these products are herbally enhanced to promote healthy and fast growing hair.
The leave-in conditioner offered by the firm contains natural ingredients like soybean oil, parsley, grapefruit and purified water. The user should ideally apply the conditioner on a small section of the scalp. On doing so, they will experience a cool and tingling sensation. Users should then continue massaging the conditioner into the scalp, especially on the temple, crown and frontal areas. If this product were to be used with a scalp booster, then one will benefit from excellent results. Used on a daily basis, this natural conditioner transforms the dry and thinning hair into a healthy and thick head of hair. It also repairs follicles that have been damaged by frequent curling and blow drying.
People who long for strong and healthy hair should take plenty of hair growth vitamins and other useful nutrients. Hairobics offers vitamin B3, vitamin B5 and vitamin B6 tablets that promote healthy hair growth. The tablets also contain vitamin C that improves scalp circulation, vitamin E that increases the oxygen intake, zinc that fights bacteria and iron that strengthens the hair. The therapeutic shampoo on offer is a stimulating and deep cleansing product that is formulated to create a nutrient rich environment that is ideal for healthy hair growth.
Among the ingredients in this product are Thyme, Yarrow and Rosemary. These are natural antiseptics that can remove excess sebum and toxins from clogged hair particles. The products also contain Lavender, Horsetail and Sage that can condition and moisturize the hair. People with tinted and bleached hair will find this product very useful. This shampoo should ideally be used with small amounts. After applying it to the hair, it is necessary to massage it for two minutes. The hair should then be rinsed thoroughly with lukewarm water. People, who have used the product, have found their hair regain its soft and silky texture. It is also possible to buy hair products for kids from this company. Using these natural products is the best way of getting soft and healthy hair that will subsequently add to the individual's self confidence. It remains one of the best and most effective hair care products in the market.
For more information please visit http://www.hairobicsallnatural.com/