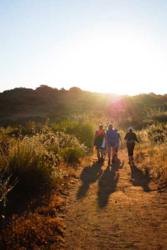 Remember, even Olympic athletes need trainers, coaches and intensives throughout their career to attain their goals. Kirkland Shave, Lead Guide
(PRWEB) February 12, 2013
Mountain Trek Health Spa and Fitness Retreat, will be taking it's award winning program to Rancho La Puerta Health Spa in Baja Mexico, just south of San Diego this February for two weeks. From February 9-16 and 16-23, Mountain Trek will provide a guided fitness experience and education, providing a deep rest from daily responsibilities, while igniting metabolism and guiding guests to learn new habits that can grow into a lifestyle of lasting health and wellness. The cost of the program is $4450 USD for each week; two week stays are welcomed.
This is the fourth year of partnership between these two luxury retreat centres. The home base of Mountain Trek in the mountains of British Columbia offers a temperate summer climate but the retreat is quiet for most of the winter season. Rancho welcomes the focused fitness program that Mountain Trek provides, and knows that excellent service and individualized attention is the primary goal of the program.
Mountain Trek was recently recognized by TripAdvisor as one of the Top 25 Traveller's Choice for Service 2013, for hotels in all of Canada, based on customer reviews posted to the site. The high level of service goes with the company wherever it offers a program ‒ at home in British Columbia, at Rancho La Puerta and also on the Adventure Treks that are offered each spring.
Kirkland Shave, Lead Guide of Mountain Trek and Cathy Grierson the Fitness Director lead guests on daily hikes through the private rolling hills of Rancho. The group eats together, and meals are calorie controlled so that maximum weight loss is achieved. Guests have the same services that are offered in the British Columbia program, including two massages per week and daily yoga and fitness activities, plus daily discussions about diet, exercise, sleep health and stress. Guests go home with the tools to make lasting changes to their lifestyle. In addition, guests have access to the full range of amenities and services offered by Rancho La Puerta.
Groups are small; the maximum size is 16 people. Each day, the Mountain Trek guides create smaller groups that reflect hiking ability and fitness, and each of these has a guide that remains with them for the day. Guests form a personal relationship with the staff, and each person is supported in their own health goals with daily check-ins to ensure everything is going well.
That support extends beyond the end of the program. Kirkland will be offering ongoing goal support for alumni this year. He'll be hosting Alumni Health Chats and Webinars, every 2nd Thursday from May through October, as well as being available in the office on those days for free private coaching sessions with alumni. Kirkland says, "Remember, even Olympic athletes need trainers, coaches and intensives throughout their career to attain their goals."
Places for this Fitness and Weight Loss Retreat sell quickly. Contact Mountain Trek for more information.