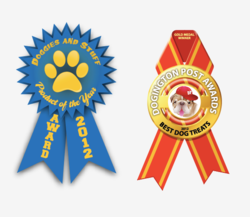 A big congratulations on your win and, more importantly, big THANKS for keeping the health and happiness of our pets as your top priority! - Brandy, Dogington Post
Wilton, CT (PRWEB) February 02, 2013
The family-owned animal nutrition company, Clear Conscience Pet, has been selected for Best Pet Treat of the Year 2012 as well as Best In Show Food Topper 2012 by The Dogington Post & Doggies and Stuff, respectively. The company has also won three other national awards in the past 14 months for their innovative pet nutrition products.
"It's really an honor" said Founder Anthony Bennie, "to receive multiple awards in such a short period of time." Previous awards include the 2012 Green Spirit Award from PetAge Magazine, the 2012 SupplySide West Editor's Choice award in the animal nutrition category and the 2011 Editor's Choice Award from Pet Product News International.
The company's hit product, SuperGravy, won the award for "Best in Show Food Topper" by Doggies and Stuff. SuperGravy is the first holistic gravy pet food topper which also won the SupplySide West award in late 2012. "It's an innovative product that is simple to use, highly nutritious and makes any food extremely palatable," Bennie said. Ingredients include beef & bison organ meats, chia seed and concentrated, air dried vegetables.
Lamb Airy Bites won the award from The Dogington Post, and are small cubes of oven-roasted lamb lung that are coated in Clear Conscience Pet's patent-pending OSV™ (Omega + SuperVeggies™) recipe. The company states they are a hit with dog trainers who love the small, bite size pieces.
The award winning lineup can be purchased at specialty pet retailers, online retailers and at the web store for Clear Conscience Pet.
# # #
About Clear Conscience Pet®, LLC
Clear Conscience Pet® is a multiple award winning pet nutrition company founded with the mission of using ingredients from sustainable family farms to make exceptionally healthy treats, chews, and the SuperGravy line of pet food enhancing gravies. The company's current products include the patent pending OSV™ treat and chew line, SuperGravy®, the first Holistic Instant Dry Gravy Mix and Nutrient Enhancer for pets, and Cruncherz™ Gluten & Grain-Free Bakery Treats. The company is based in Wilton, Connecticut and is family-owned by Founders Anthony Bennie and Amanda Malone Bennie. They currently market their pet food products to pet supply retailers, veterinarians, health food stores, and other pet specialty outlets.
Facebook page: http://www.facebook.com/Clear.Conscience.Pet.LLC
Video interviews with Founder, Anthony Bennie: visit:
http://www.clearconsciencepet.com/ccp-tv