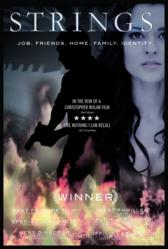 Having a presence at the European Film Market is the first foot through the door to getting placement overseas
LOS ANGELES, CA (PRWEB) February 01, 2013
For the first time, Strings will be represented in the international marketplace during the European Film Market in Berlin. EFM will play host to thousands of films seeking distribution as well as financing. Strings will be represented by Salim Khassa and Jay Patel at LBYL Films. The company will be seeking foreign Theatrical, DVD, and Video On Demand placement for the film.
"Having a presence at the European Film Market is the first foot through the door to getting placement overseas", says one of the film's directors, Ben Foster. "LBYL has a great track record and we're excited to have them rep Strings".
Strings is a micro-budget film directed by Texas natives, Mark Dennis and Ben Foster, and was shot in Austin, TX and New York City. In 2012, Strings completed an award-filled festival run, attending the Hollywood Film Festival, The Austin Film Festival, and over a dozen others. The film took home the Audience Award at the White Sands Film Festival and Best Feature Film at the SOHO International Film Festival in New York City. Last year, the film was released on DVD in the United States through House Lights Media and digitally through The Orchard.
ABOUT LBYL:
LBYL Contact Information (New York):
OFFICE: 894-896 Manhattan Ave. Unit 24 Brooklyn, New York 11222
PHONE: 516-532-6538
EMAIL: contactus (at) lbylfilms (dot) net
LBYL Contact Information (Berlin):
OFFICE: Marriott, 2nd Floor
PH#: 49 30 22000-1136
EMAIL: contactus (at) lbylfilms (dot) net