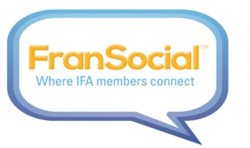 We look forward to providing IFA members and franchisees with valuable hiring content and information as well as connecting with suppliers all over the world
Chicago, IL (PRWEB) February 01, 2013
The leading selection management platform, Hireology, recently announced their membership with the International Franchise Association's Supplier Member Forum. Today, Hireology announced they have joined the IFA's FranSocial community where they will provide content and interact with IFA members before during and after the Annual IFA Conference this February.
The IFA announced the FranSocial community in early January of 2013 and will use the platform to connect IFA members and suppliers. FranSocial users can pose questions to IFA member industry experts, share documents, participate in discussions on topics that impact their business and find franchise professionals who share their interests.
"We are very excited to utilize this tool for our business development and networking before and after the IFA Annual Conference," said Erin Borgerson, Marketing Coordinator for Hireology. "We look forward to providing IFA members and franchisees with valuable hiring content and information as well as connecting with suppliers all over the world."
Hireology will post education blogs, informational whitepapers, and interactive eBooks to the FranSocial community blog. The Selection Management platform will also share files so users can download the content to their own computer and share with networks. Currently Hireology has posted their educational hiring for franchisees eBook to the community as well as a series of blogs.
IFA members and suppliers will have access to Hireology's Selection Manager™, a patent-pending profiling platform that includes online applicant management, job profiling, skills testing, behavioral interviews and verification services like background checks, drug testing, and credit checks.
About Hireology
Hireology's award-winning Selection Management System helps companies organize their hiring process and leverage data to make better hiring decisions. Franchise systems, banks and financial institutions, healthcare systems, dealer networks, and other multi-site operators use Hireology's web-based Selection Manager™ to deliver consistent and repeatable hiring decisions in the field - leading to better hiring decisions, lower turnover, and increased profitability per location. For more information, please visit http://www.Hireology.com.
About the International Franchise Association
The International Franchise Association is the world's oldest and largest organization representing franchising worldwide. Celebrating over 50 years of excellence, education and advocacy, IFA works through its government relations and public policy, media relations and educational programs to protect, enhance and promote franchising. Through its media awareness campaign highlighting the theme, Franchising: Building Local Businesses, One Opportunity at a Time, IFA promotes the economic impact of the more than 825,000 franchise establishments, which support nearly 18 million jobs and $2.1 trillion of economic output for the U.S. economy. IFA members include franchise companies in over 300 different business format categories, individual franchisees and companies that support the industry in marketing, law and business development.