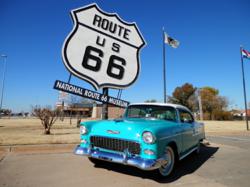 Historic Route 66 in a world-class vintage car...there's nothing finer.
Cary, N.C. (PRWEB) February 05, 2013
Blacktop Candy's "Classic" Route 66 Road Trip provides travelers enormous flexibility while enjoying the authenticity of a beautifully restored and highly maintained vintage American car. The Classic Road Trip includes:

19-day classic American car hire
Self-guided road trip using Garmin Zumo navigation with Route 66 turn-by-turn directions and attractions
Comprehensive collision and liability insurance
24 X 7 roadside assistance
The "Premiere" Route 66 Road Trip offers travelers all the options of the Classic Road Trip plus some exciting features to make the Route 66 drive truly a once in a lifetime experience. The Premiere Road Trip includes these additional features:
Top-notch accommodation, personally vetted and chosen for their proximity to Historic Route 66, historic value and vintage authenticity
First-class ground transportation to and from the airport
Pre-planned and pre-booked two-day side trips to Branson, Missouri and Las Vegas, Nevada
Generous fuel allowance
Mechanic and tour adviser drive the route and are close by if you need them
Daily car wash service
"The Premiere Road Trip was actually our first offering," commented CEO and Founder Scott Shinn when asked about the new options. "But we've had a significant number of visitors to our website who have asked for a tour that offered the flexibility to set their own itinerary. So we developed the Classic Road Trip which fills that need and is somewhat more economical."
Blacktop Candy's website provides extensive details on the Route 66 road trips, descriptions and photo gallery of the classic cars, attractions and accommodations, as well as details on the features, options and price for each tour.
Blacktop Candy's Route 66 classic American road trips commence early April, 2013. With four classic vehicles to choose from and eight tours scheduled for 2013, space is limited and tours will book fast. So if a Route 66 classic car road trip in on your agenda for the near future, now is the time to book your tour.
Travel agents world-wide are most welcomed.