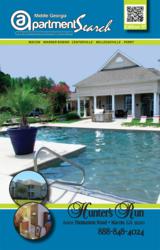 Yes, print does matter and print drives the internet
MACON, WARNER ROBINS, MILLEDGEVILLE, GA (PRWEB) February 07, 2013
Apartment Search Magazine is a locally managed and produced magazine in central Georgia and has been the #1 guide for apartment hunters since 1996. In March they will expand their existing online presence to include a mobile device web site, iPhone and Android apps, and a brand new web site to replace the current one at ApartmentSearchMagazine.com.
Apartment Search Magazine is currently the only publication in the Middle Georgia area and covers Macon, Warner Robins, Milledgeville and Perry. The magazine has over 160 distribution points, including Robins Air Force Base, Publix and Kroger stores, Flash Foods and Walthall Stations, Chambers of Commerce, apartment communities and other various locations throughout the area. The new web site and mobile tools will enhance their current online market for apartment hunters, which already includes Facebook and Pinterest, plus they exclusively represent Middle Georgia on the national web site ShopApartments.com for the Macon, Warner Robins, Milledgeville and Perry areas.
When asked about the importance of the printed guide with so many apartment hunters turning to the internet to find new homes, Ev Peterson, Managing Editor and Publisher, insists the magazine is still essential to their business.
"Yes, print does matter and print drives the internet," says Peterson.
The magazine is published three times a year and features the most sought after properties throughout the area. Design, photography and publishing are all done in house.
"Because we are locally owned we have a pulse on the community and its needs and can accommodate the apartment communities within a 24 hour period or less," says Christina Morris, Sales Coordinator for the magazine.