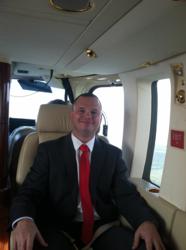 Roger's meetings and experience with other executives as Steve Wozniak and Eric Trump have helped Bryan develop the skill set he currently has
Cleveland, OH (PRWEB) February 01, 2013
Leading business author, public speaker, and business coach Roger Bryan, of RCBryan & Associates, has announced a number of new marketing strategies for entrepreneurs. The highly regarded young executive will be unveiling these new strategies through his business coaching and his marketing coaching. Through these services and coaching, Roger Bryan is giving young entrepreneurs the tools necessary to take their brands to the next level.
Roger and his company have been at the cutting edge of Internet marketing strategies, and RCBryan & Associates perform a number of services to help entrepreneurs achieve their goals. The firm works on software and application development, business consulting, business coaching, business mentoring, and marketing coaching and consulting.
Under their business coaching and marketing services, the firm helps develop a website for the budding company, and optimizes the website, for both video and search engines. Their services also include developing strategies for product launches, targeting your marketing to make your message reach the right people in the most effective manner possible.
Roger Bryan will be using his previous experience in all of these fields to implement his new marketing strategies for entrepreneurs. Roger's meetings and experience with other executives as Steve Wozniak and Eric Trump have helped Bryan develop the skill set he currently has, and how he can help new entrepreneurs follow in his footsteps and take their own brands to the next level.
More information on Roger Bryan and his professional business coaching, consulting, and marketing services and his new marketing strategies can be found at http://www.rcbryan.com.
About Roger Bryan:
Roger Bryan is a business author, speaker, business coach, and executive. Roger has started and built a number of multi-million dollar companies, including one that was ranked by Inc. Magazine as one of the fastest growing companies in America. As a speaker, he speaks to hundreds of people about Internet marketing and sales at events across the United States and Canada, appearing on stage with Eric Trump, Brett Michaels, Steve Wozniak, and Kathy Ireland. As a writer, Roger Bryan has written two books about startups and Internet marketing. Roger Bryan is the president of business consulting and Internet marketing firm, RCBryan & Associates: http://www.rcbryan.com