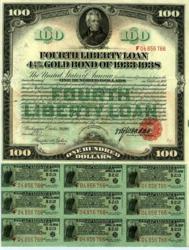 Liberty Bonds are extremely collectible and becoming quite scarce
Washington, DC (PRWEB) February 03, 2013
The Professional Scripophily Traders Association (PSTA) is pleased to announce the appointment of Lawrence D. Schuffman as a special advisor the Board of Directors in the area of WWI Liberty Loan Bonds. With the addition of this position, the PSTA continues to provide a leadership position for professionalism and scholastic integrity in the area of historical finance and the hobby of Scripophily.
Scripophily(scrip-ah-fil-ly) is the name of the hobby of collecting old stock and bond certificates. Values range from a few dollars to more than $500,000 for the most unique and rare. Tens of thousands of Scripophily buyers worldwide include casual collectors, corporate archives, museums and serious collectors.
The PSTA, founded in 1996, is the industry's premier source for news, information on the hobby, and collector awareness. "The addition this position continues to support our commitment to the consumer and progressiveness of our members in the organization" says Bob Kerstein, President and cofounder of the PSTA.
Larry has spent many years researching the history of Liberty Loan Bonds and is considered the preeminent expert in this area. "We are extremely pleased and fortunate to have Mr. Schuffman join our Association as he brings a wealth of knowledge to this highly technical area of Scripophily" added Kerstein.
Lawrence D. Schuffman, MSFS, ChFC, CLU, holds a Master's Degree in Financial Services, and specializes in Estate and Retirement Planning through Summit Financial Services, Inc. located in Parsippany, NJ. He is an Adjunct Professor at Montclair State University of NJ and has written for the Banknote Reporter, WINning Ways, Numismatist, The Journal of the International Bond and Share Society, Society of Paper Money Collectors and the Museum of American Finance. An expert on the topic of the WWI Liberty Loan Bond, he is currently is writing a book on these type of government securities.
The Mission of the PSTA is to promote the study and collection of Scripophily for collectors, researchers, and for the interpretation and preservation of financial history. The PSTA will help support educational projects, programs, seminars, museums to assist collectors and the general public to gain a better understanding of Scripophily, Finance and Business History.
Scripophily.com and OldCompany.com was founded by Bob Kerstein, a Certified Public Accountant and Chartered Global Management Accountant who has more than 36 years of senior management experience in the Cellular, Cable TV, Satellite, Internet, Professional Sports and Entertainment Industries. Bob is also the President of the Professional Scripophily Traders Association (PSTA).
For more information visit http://www.scripophily.com/, http://www.oldcompany.com and http://www.libertybonds.com or call 1-703-787-3552.
Contact: Media Relations, Scripophily.com
Tel: 703-787-3552; e-mail: mediarelations(at)scripophily(dot)com
# # #