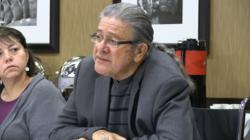 It has to be exposed nationwide what [South Dakota is] doing to our Lakota people. It's a form of genocide (Chairman Brewer).
Rapid City, SD (PRWEB) February 05, 2013
South Dakota's Indian Child Welfare Act (ICWA) directors have issued two reports to Congress: "Reviewing the Facts: An Assessment of the Accuracy of NPR's 'Native Foster Care - Lost Children, Shattered Families,'" and "Is South Dakota Over-Prescribing Drugs to Native American Foster Kids?" The first of these reports cites evidence that South Dakota's Department of Social Services (DSS) is placing 87% of Indian children into non-Indian homes or group care, even while anywhere from 20-43% of licensed Native American foster homes in the state sit empty. This, according to the authors of the report, is in clear violation of the federal ICWA law which requires states to keep Native foster children with their extended families and tribes whenever possible. The study also affirms NPR's assessment that the state's ICWA violations are partly motivated by the tens of millions of federal dollars that South Dakota receives for placements of Native children each year.
The reports were so disturbing to tribal leaders in South Dakota that Tribal Council Chairman Bryan V. Brewer of the Oglala Sioux Tribe issued a state of emergency declaration "with respect to Oglala tribal children being put into non-Indian placement by the State of South Dakota in violation of the Indian Child Welfare Act." Chairman Brewer said "It has to be exposed nationwide what they're doing to our Lakota people. It's a form of genocide. I'm asking that all the tribal chairmen get behind this 100%. This will be a #1 priority for Pine Ridge."
The documents sent to Congress were prepared with technical assistance from the Lakota Peoples' Law Project (LPLP), a nonprofit law firm that is petitioning congressional members to hold field hearings in South Dakota on foster care in the near term. The reports received the endorsement of seven tribal councils in South Dakota representing over 98% of enrolled Lakota tribal members in the state. The finalized documents and endorsement letters were sent on January 30th to a bi-partisan group of six congressmen who asked the Department of the Interior more than a year ago to look into ICWA violations by South Dakota. The congressional inquires came just days following a Peabody Award-winning NPR series about Lakota foster care in October 2011. Among the concerned congressmen was Ed Markey (D-MA), the ranking Democrat on the House Natural Resources Committee.
In response to the the reports sent to Congress, last week the Bureau of Indian Affairs (BIA) began preliminary planning for a summit on Lakota foster care in Rapid City, SD on April 15th-17th. The BIA pledged to host this summit more than a year ago. This pledge came in the form of a written response to the the congressional inquires of 2011. Larry Echo Hawk, the Assistant Secretary of the Department of the Interior, promised in 2011 that the BIA would convene a summit on Lakota foster care for stakeholders in early 2012. But Mr. Echo Hawk left office in March 2012 and there was no follow up by the BIA for over a year. The ICWA directors therefore prepared their own report and added a second one on the high level of mental health prescription drugs being given to Lakota foster children.
The Lakota People's Law Project has been partnering with tribes and leaders in South Dakota since 2005 from its offices in Rapid City, SD and Santa Cruz, CA to challenge more than 150 years of injustice against Native American families. LPLP's activities have included funding and supporting Native experts to provide technical assistance to the tribes on family and child welfare issues. The law firm combines public interest law, research, education, and organizing into a unique model for advocacy and social reform.
The Lakota People's Law Project is sponsored by the non-profit Romero Institute based in Santa Cruz, California. The Institute is named after slain human rights advocate Archbishop Oscar Romero of El Salvador. The Institute seeks to identify and dismantle structural sources of injustice and threats to the survival of our human family.