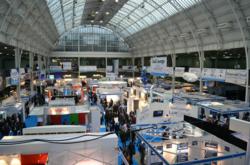 The barrier to cloud adoption is not technology but trust.
London, UK (PRWEB UK) 4 February 2013
Results of a survey of over 500 visitors to Cloud Expo Europe this week have shown that almost two-thirds (63%) of respondents believe their company data would be more secure with a reputable cloud service provider compared to keeping systems in-house.
It represents a significant shift in attitudes as data security is the number one concern when it comes to cloud adoption, according to research by the Cloud Industry Forum.
However, this lags behind the three-quarters of respondents (73%) who believe using secure Infrastructure as a Service would make it easier to be compliant with industry regulations. "This is surprising because security and compliance are so closely linked," explains Peter Groucutt, Managing Director at Databarracks. "It is common practice to outsource specific systems to specialist providers to help businesses meet prescriptive compliance issues. What is interesting is that although businesses recognise specialist services can help with compliance, fewer think of specialist cloud services providing the same benefits for security."
Many of those questioned said data security would depend on the Cloud Service Provider "keeping their end of the bargain" and "doing what they promise."
"The survey results are encouraging as they indicate more people realise that in theory data should be more secure in the cloud but, as respondents pointed out, this depends entirely on the how much the Cloud Service Provider can be trusted," says Groucutt. "Cloud Service Providers have a huge responsibility in safeguarding customers' systems and not all providers offer the same standards of data security or service."
Other results revealed, not surprisingly given the occasion, 80% of attendees at Cloud Expo Europe plan to increase cloud services in 2013.
However, despite this commitment to cloud technology, just under half of respondents (45%) said they didn't expect to buy any less hardware in 2013 despite investing in more cloud services, showing that cloud technology might not be as damaging to hardware sales as expected.
"The barrier to cloud adoption is not technology but trust," concludes Groucutt on the survey findings. "The more the industry tackles this issue by implementing transparent and accountable practices, the more confidence it will inspire."
Databarracks conducted the research at Cloud Expo Europe at Olympia, London on 29th and 30th of January 2013, where it also launched its new secure, high-performance Infrastructure as a Service platform.
Ends
About Databarracks:
Databarracks provides secure, Infrastructure-as-a-Service, Backup-as-a-Service and Disaster Recovery –as-a-Service from UK-based, ex-military data centres. Databarracks is certified by the Cloud Industry Forum, ISO 27001 certified for Information Security and has been selected as a provider to the G-Cloud framework.
http://www.databarracks.com
For more information, please contact:
Leonie Guguen, Communications Manager, Databarracks
Tel: 0800 033 6633
E: leonie.guguen (at) databarracks (dot) com
Results in full from 518 delegates on Tuesday 29th and Wednesday 20th January at Cloud Expo Europe, Olympia, London:
Do you currently use any cloud services?
No 31%
Yes 69%
Do you intend to use more cloud services in 2013?
No 20%
Yes 80%
Do you intend to purchase less hardware in 2013 as a result of cloud computing?
No 45%
Yes 55%
Do you think your data will be more or less secure using a reputable cloud service provider - compared with keeping systems in-house?
Less secure: 37%
More secure: 63%
Do you think using secure IaaS would make it easier or harder for you to be compliant with your industry regulations?
Harder to be compliant: 27%
Easier to be compliant: 73%