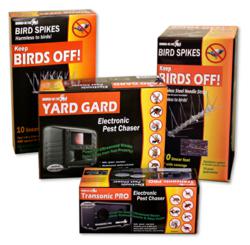 Chicago, IL (PRWEB) February 06, 2013
Bird-X, Inc. just completed a total packaging redesign of their popular line of pest bird control and pest animal control products, soon to be seen in retail stores across the country. Bird-X products stand out on retail shelves as a humane, high-tech alternative to the high-profile trap-and-kill pest control products of the past. As more consumers are drawn to safer, greener products, companies like Bird-X succeed in meeting those demands with science and innovation.
Bird-X retail products include plastic bird spikes, stainless steel bird spikes, sonic and ultrasonic pest repellers, visual scares, organic compounds, and bed bug monitors. Bird-X combines years of animal behavior research with the latest technological advances to develop safe and effective pest control products that eliminate the need for harmful chemicals and traps.
Bird control spikes are the most popular and the most effective bird control product in existence. Bird-X Plastic Bird Spikes are now wider and stronger than previous models; these new spikes protect more surface area and last longer. Both plastic bird spikes and stainless steel bird spikes prevent pest bird problems for homeowners and business owners all over the world.
Electronic pest repellers such as Balcony Guard and Yard Gard use ultrasonic technology to quietly repel birds and animals in outdoor areas (ultrasound is nearly silent to humans but extremely irritating to pests). Electronic pest control is an attractive choice for consumers who want to avoid traps and chemicals – especially when children and pets are involved.
The new Bird-X product packaging is bold and eye-catching; it is designed to appeal to the growing number of consumers who are looking for safe, effective, long-lasting pest control solutions. The packaging includes information in both English and Spanish as well as visual icons indicating exactly which pests will be targeted.
Expect to see the new Bird-X products and product packaging on shelves in retail stores like Home Depot, Ace Hardware, True Value and more in the next few months.
For more information about Bird-X pest and bird control solutions, visit http://www.bird-x.com.
About Bird-X, Inc.
Bird-X is the leader in producing humane pest and bird repellent products, since 1964. We offer the most comprehensive line of bird control products that are humane, non-toxic and eco-friendly. Our bird deterrents range from state-of-the-art laser technology to sonic/ultrasonic bird control, goose and pigeon repellents, bird netting, bird spikes, visual scares, and animal sound repellers.