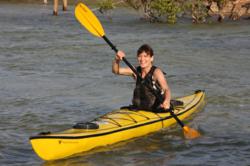 Kayaking in Tanzania is truly a unique experience
Studio City, Calif. (PRWEB) February 06, 2013
Infinite Safari Adventures has been recognized in the January 2013 edition of ThePaddler Ezine. This international magazine is dedicated to recreational kayakers. The magazine features the story of how Infinite Safari Adventures owner Alan Feldstein founded his company after he became one of the first to kayak off the coast of Tanzania in fiberglass kayaks. The article goes on to describe the magical experience of, concluding a traditional wildlife safari by heading to the remote coast of Tanzania for several days of paddling in the warm coastal waters of the Indian Ocean in a place where few tourists venture.
"To kayak in Tanzania is a special experience. People who come here can go home and proudly proclaim that they are one of the few people in the world who have kayaked in this area," said Feldstein. "What is great is that since my Tanzania-based ground partner and I are both certified kayak instructors and because of the many paddling areas available, this one-of-a-kind experience is open to people of all paddling skills including those who have never kayaked before."
As the article details, because there are no kayaks in East Africa, Feldstein's partner built the fiberglass kayaks himself.
Infinite Safaris not only offers kayaking extensions to its custom wildlife safaris but other adventures including climbing Mt. Kilimanjaro, scuba diving in Zanzibar, hot-air ballooning, or tracking wild chimps in the mountains about Lake Tanganyika.