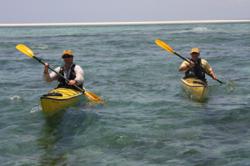 Ending a wildlife safari with a luxury kayak trip is a once in a lifetime experience
Studio City, Calif. (PRWEB) February 12, 2013
Luxury Travel Mavens online publication recently profiled Alan Feldstein and the unique kayaking opportunities his custom travel company Infinite Safari Adventures offers in Tanzania.
Set up in a question and answer format, this article written by award-winning travel writer, photographer, author, producer, director, and videographer, Lisa Sonne, described what is involved in luxury kayaking.
The article discusses such issues as how to prepare for kayaking on your holiday, what you need to pack and how to get in shape. The article went on to profile Infinite Safari Adventures owner Alan Feldstein and the story of how Infinite Safari Adventures came to be.
Luxury Travel Mavens was created by five leading authorities that have one goal in mind: to share their love of travel with other inquisitive globe trotters. Each day they post provocative stories designed to inspire you to travel. They talk about compelling destinations around the world and offer up previews and reviews of luxury hotels and resorts, cruise ships, yacht charters, villa rentals, private jets and private islands. They've got advice for planning just about any type of vacation, from honeymoons to family get-aways to safaris to suborbital space flights.
Asked about the response to the article Feldstein said: "I thank Luxury Mavens for the profile and to expose people to the concept of luxury kayaking. I hope more people will come with us on a kayaking trip in Tanzania. Not only is it luxurious but is such an unique experience – very few people can come back from a safari in Africa and say I went kayaking in Tanzania!"
Infinite Safaris not only offers kayaking extensions to its custom wildlife safaris but other adventures including climbing Mt. Kilimanjaro, scuba diving in Zanzibar, hot air ballooning, or tracking chimps in the mountains about Lake Tanganyika.