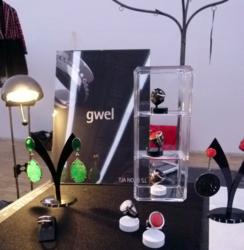 When we looked for better versions of classic engagement rings, Gwel impressed us with the exceptional quality of their workmanship and their clean and elegant designs.
Barcelona, Spain (PRWEB) February 10, 2013
About a week ago, the latest trends for Fall/Winter 2013-2014 were showcased at the 080 Barcelona Fashion Week. Unlike previous 080 Barcelona Fashion Weeks, this year event organizers invited five Spanish jewelry designers to showcase their products. Gwel jewelry made a big splash at the event with their traditional handcrafted diamond jewelry and an exciting new fashion fashion jewelry line. Ronngren, president of Amatyzt.com, was there to see the jewelry designers chosen to participate and to catch the latest fashion trends. Spanish fashion designer Desigual showcased supermodel Bar Rafaeli wearing its colorful creations. Paris Hilton was in the front row, cheering on boyfriend River Viiperi, who rocked the runway wearing Mango clothing. Custo Barcelona light up the stage with their trademark prints and colors.
A city full of creativity and original design, few were surprised last year when Barcelona moved up to the number three spot in the Global Language Monitor's annual ranking of the Top Fifty Fashion Capitals. Only London and New York rank higher in the Fashion world. This year, 080 Barcelona Fashion Week took place in the new DHUB building opposite the Barcelona landmark Agbar Tower. A total of 29 designers walked the modern, minimalist catwalk.
In normal Desigual style, their new collection was bold, colorful and full of patterns. Bar Rafaeli modeled gracefully for the brand whose name translates to "Not the Same". The supermodel even managed to pull off walking the catwalk with an iPhone in hand! Mango clothing trended to a classic, preppy look this season. River Viiperi, the Spanish male model now dating Paris Hilton, looked fresh out of an ivy league campus in an off white cable sweater and white shorts. In support of her boyfriend, Paris tweeted, "Just watched my love @RiverViiperi walk the runway for @Mango. Looking so handsome in @HeByMango's latest collection... #SexyBF."
Meanwhile, upstairs, Gwel was also featuring a modern spin on classic jewelry. Olga Espriu, the main designer for the brand, specializes in diamond rings with thick, 18K white gold bands, each handcrafted for quality and durability. For 15 years, Gwel has been serving the Spanish jewelry market with a strong local presence in Barcelona. Now, through a partnership with Amatyzt.com, Gwel is available to the US market. Customers can choose a design as is, or get help from an Amatyzt representative to customize their jewelry. A good example of this is adding some colored gemstones along with a diamond to create a unique engagement ring. "Amatyzt is very selective about the brands we have on the site," explains Alexa, "When we looked for better versions of classic engagement rings, Gwel impressed us with the exceptional quality of their workmanship and their clean and elegant designs." The jewelry designer is now expanding the brand to also create gorgeous gemstone pieces, including intricate cutout designs on jade.
Other jewelry brands chosen to participate at the show were also good. Alexa adds, "I found most of the jewelry there to have interesting designs and that 'special something' we look for in our designers." GemmaLopez featured gorgeous gemstone jewelry with many one of a kind pieces. Rio jewelry featured an hombre style chain that faded from oxidized silver to bright silver along with delicate pendants and rings. Maria Grafeuille incorporates gemstones in crochet and macrame necklaces, bracelets, and belts. "I am currently taking a closer look at these brands to determine if they are a good fit for our website," Alexa elaborates, "Barcelona has an abundance of design talent, so I am here to look for brands that we want to share with the US market on Amatyzt.com."
ABOUT AMATYZT AND ITS DESIGNERS
Amatyzt.com is an online jewelry boutique that specializes in unique designer jewelry by notable designers from all over the world. Founder Alexa Ronngren came up with the idea after meeting an award winning jewelry designer who despite having talent and accolades didn't have the marketing knowledge to promote her brand. Coming from a family with four generations in the gemstone business, Alexa has been able to curate a special collection of beautiful, high quality jewelry, watches and accessories on Amatyzt.com. Some designers are international award winners, others are well respected in their home market, and a few are emerging stars just starting to get discovered. Despite coming from different corners of the world, they all share a passion for creating interesting, gorgeous, and uncommon jewelry.