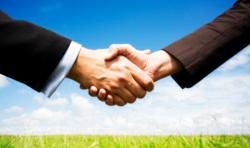 "Garner Properties is uniquely qualified to handle this project..."
-- Richard Vito
Taylor, MI (PRWEB) February 07, 2013
Garner Properties & Management LLC signed a long term contract with Rochester, New York-based investment firm, First National Solutions/Lucian Development, LLC to manage multi-family projects throughout North America.
Richard Vito, Portfolio Manager for First National Solutions said, "Garner Properties has been successfully managing our large portfolio of single family homes in Michigan for years. This was a natural next step."
According to Property Manager, Chris Garner, the expanded coverage area requires Garner Properties to be adaptable to new markets. Garner added, "Obviously, property management that works in Michigan won't be successful in all markets. We will implement our Dynamic Portfolio Management System to adapt to diverse markets; and centralize and standardize management according to the needs of each market." Vito said, "Garner Properties is uniquely qualified to handle this project, and we have no doubt that we are in good hands."
"We are looking forward to continuing our relationship with First National Solutions into the far future, and continue to look for ways to serve our large portfolio clients," said Garner.
Garner Properties & Management LLC http://www.garnerproperties.com is the largest SINGLE FAMILY, and the fastest growing small to mid-size MULTI-FAMILY, property management company in Michigan with over 1400 properties under contract. Garner Properties & Management LLC has been serving Michigan for more than fifty years helping property management customers reach their goals.
First National Solutions/Lucian Development, LLC, http://lucianglobal.com/lucian-development/index.html, is engaged in leveraging investments, holdings, and other assets, while building value for investors. The company's focus is on creating positive change and self-sufficiency for communities around the country and the world.
# # #