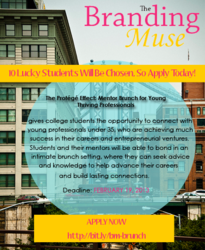 My hope is that we can build the connections necessary to propel us to greater heights as ambitious young people.
New York, NY (PRWEB) February 06, 2013
The Branding Muse, an organization that focuses on personal branding, today announced that applications are open for its inaugural mentor brunch. The Protégé Effect: Mentor Brunch for Young Thriving Professionals will be held on March 24, 2013 at 11:00 a.m. This event is the first in a series of signature events The Branding Muse plans to unveil this year. The mentoring brunch will be held at an undisclosed location in New York City and brings together college students and young professionals.
This event is designed to give collegiate women a chance to gain exclusive insight from seasoned professionals in their field. The mentor brunch will be competitive and student must submit a video application to be considered. Chosen students will be paired with a mentor for the event and given the opportunity to seek advice and knowledge while also building a relationship they can have for the remainder of their college careers.
The Branding Muse acknowledges the importance of mentoring and will work to connect successful professionals to college students who have the experience, talent, and connections they need to succeed. The application aims to identify students with strongly established career goals, looking for a mentor to help realize those goals.
The founder of The Branding Muse, Emmelie De La Cruz, felt that the young women of NYC deserved a chance to connect with positive role models who have made strides in their careers. "My hope is that we can build the connections necessary to propel us to greater heights as ambitious young people," she continued.
How to Apply:
One minute video titled #BMBrunch Protégé Application published on YouTube, Vimeo, or Facebook
Video should include:
1. Why would you like to be an attendee of the brunch?
2. What are your educational and career goals? How will the Branding Muse Mentoring Brunch help you reach your goals?
3. What do you think is the biggest challenge facing college students today?
4. What is your ideal mentor like?
If interested in applying and for more information, follow this link: http://bit.ly/bm-brunch
If you are interested in sponsoring the event, please contact Emmelie De La Cruz
About The Branding Muse
The Branding Muse works to assist college students and young professionals with the development of their personal brands. By creating resources to simplify personal branding, The Branding Muse empowers its community to take control of their online and offline presence. For more information on the Branding Muse, visit thebrandingmuse.com.