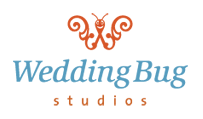 Wedding Bug's goal is to allow brides to have their perfect day at a reasonable price without sacrificing quality.
Huntingdon Valley, PA (PRWEB) February 07, 2013
Spring is in the air and wedding season is just around the corner. Unfortunately, along with the months of 'wedding season' come inflated prices for venues, catering, and (almost) all wedding related services. So it is a breath of fresh air to see a company going against the grain. Wedding Bug Studios is a company committed to helping brides plan their big day for less. They have a forthcoming deal on their already affordable wedding photographer services, so customers can save when they book multiple services with Wedding Bug this Valentine's Day. Clients that book any photography package from February 14 to February 28 will receive a 25% discount when they add wedding video or DJ services. This gives brides access to not only affordable wedding video of their big day, but also DJ services if they take advantage of this deal from Wedding Bug.
Anyone involved in planning a wedding recognizes how quickly pricing can escalate. Wedding Bug's goal is to allow brides to have their perfect day at a reasonable price without sacrificing quality. To this end, the Wedding Bug team prides itself on handpicking some of the industry's best DJs, photographers, and videographers in the business. As a result, their videographers and photographers average 12 years of professional experience prior to recruitment, and they bring that expertise to help brides commemorate their wedding at a sensible price.
Wedding Bug keeps the cost of its starting coverage low so that even brides with a tight budget can have access to this caliber of services. They supplement these packages with a range of personalization options so customers get exactly what they want and don't pay for anything they don't.
A typical wedding costs between $25,000 and $50,000, including the food, cake, centerpieces, the venue, attire, and entertainment. Planning all of these details and whittling down a guest list is the work of at least a year, but many brides find themselves overwhelmed when they put it off. As spring and summer quickly approach, venues and photographers are already beginning to fill their schedules with wedding celebrations and events for the season, making last minute planning attempts even more stressful.
The Valentine's Day promotion from Wedding Bug lets brides book an affordable wedding photographer and other essential services in one quick, cost-effective swoop. It's a great way to manage some of the stress of planning a wedding while saving money. Visit http://www.weddingbug.com for more information about this promotion.
About Wedding Bug Studios
Wedding Bug Studios strives to be an affordable provider for brides looking to have the perfect wedding day and capture it in all its artistic beauty. They select their photographers, videographers, and DJ talent from among the best in the country using a rigorous testing and application process in order to offer customers exceptional quality while keeping prices within a given range. Their upgrades allow brides to customize their package to match their needs and price range, with unparalleled, affordable wedding photographers, videographers, and DJs.