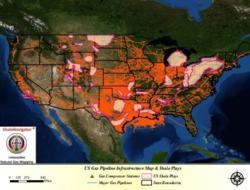 We use ShaleNavigator to present critical information to our buyers, and its been a great help in developing new projects and prospects across the Appalachian Basin.
- Justin Burgess, JD, CPL, Arete Acquisitions
New York, NY (PRWEB) February 13, 2013
ShaleNavigator has now added national gas pipeline coverage to its mapping service, covering all the major US Shale Plays. "With new drilling technologies allowing companies to rapidly move across the various shale plays, ShaleNavigator will offer mapping capabilities nationwide, beginning with a highly sought after pipeline layer," said Edward Camp, Developer of ShaleNavigator mapping systems.
With strong well results being released from the Eagle Ford to the Utica and new prospects emerging in California's Monterey Shale, many smaller exploration companies and land acquisition companies are in need of a mapping system that shows detail in their specific region, but also need to have nation-wide access as opportunities emerge. "We have found that many of our subscribers were originally operating in the Eagle Ford or Haynesville, for example, but are now taking advantage of ShaleNavigator's Marcellus coverage to help expand the services they offer to a new geography. Subscriber Arete Acquisitions is an excellent example of this," Camp explained.
Accessing ShaleNavigator
A free 7 day account is available. To access the drawing and saving map tools and to have access to high value layers, subscribe for only $99/month, or $899 for an entire year. Group discounts are available.
About ShaleNavigator
ShaleNavigator is an online, interactive mapping system with natural gas wells, well permits, pipelines, and leasing layers. Subscribers can view recent lease offers and create an save their own maps. Data is updated regularly and includes recent lease offers, hundreds of newly issued well permits in the three state Marcellus & Utica Shale plays, natural gas pipelines in the Marcellus, Utica, and EagleFord, and listings of 50+ Available Properties comprising 12,000+ acres.