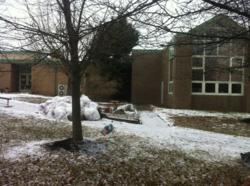 The kids are excited. The kids feel empowered. And we're all learning along the way!
Philadelphia, PA (PRWEB) February 07, 2013
On November 30, 2012, students at Warwick Elementary School gathered in the gymnasium to receive an educational presentation from Poverty Resolutions. The purpose of the assembly was to help the students gain an understanding of what it is like to live in extreme poverty and to get them to start thinking about how they can take action and make a difference.
Inspired by the presentation, Warwick students and staff have made a goal of raising enough money for the completion of a tilapia farm at the House of Hope Orphanage in Haiti. In addition to raising money, Principal Chad Watters has looked for creative ways for students to continue to learn about the challenges faced by people living in poverty around the world.
Mr. Watters explains, "We didn't want to raise money for an organization in a vacuum. To avoid that, we kept asking ourselves how we could keep providing experiences for our students like Matt and Andrew did during their assembly – when each student wore a different colored wrist band, and learned what kind of living conditions they would experience should they live in different parts of the world. It was powerful! It was through listening to their presentation that we got some ideas we thought might resonate with the students."
In Haiti, and in many developing countries around the world, regular trash collection does not occur and garbage is piled up in the street. This week, students at Warwick are experiencing what it would be like if there were no trash collection in their school. Rather than have the trash removed, the garbage bags are being piled in the schoolyard. Students are asked to consider how no trash removal would affect the school if it were to continue beyond just one week.
"No trash for a week is already providing a tremendous visual for the entire school. It's going to open the door for meaningful conversations which each class can relate directly to our charity efforts, global understanding, current events, empathy…the list is pretty endless," said Mr. Watters.
Challenges for students will continue throughout the spring, including using one pencil for a full week, not using electricity for a day, and doing chores at home to raise money for the tilapia farm project.
"The pencil challenge, the no electricity for a day challenge, and the no trash challenge are all experiences designed to teach us something about why we're raising money for Poverty Resolutions. The kids are excited. The kids feel empowered. And we're all learning along the way!"
About Poverty Resolutions:
Poverty Resolutions is a 501(c)(3) nonprofit organization dedicated to the eradication of dollar-a-day poverty. They aim to educate Americans to increase awareness of global poverty and to inspire them to take action. In Haiti, they provide sustainable solutions to poverty, which empower individuals and organizations to meet the needs of their communities.
Poverty Resolutions has delivered educational presentations to students from elementary school through university.
To learn more, visit: http://www.povertyresolutions.org/