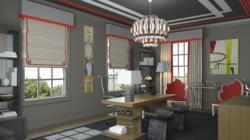 Houston, Tx (PRWEB) February 07, 2013
Luxe Interiors + Design magazine and Preservation Houston, a Houston-based non-profit organization dedicated to protect the city's architectural and cultural historic resources, have announced that they will present Villa de Luxe Designer Showhouse to take place during the first three weekends of February.
Lisa Roth of Montgomery Roth, an award-winning architecture and interior design firm, is part of 18 leading Houston designers involved with the Showhouse project. Lisa will be working closely with designers Courtney Cangelosi and Geraldine Phouangsavanh to complete the transformation of Bedroom 4 on the Second Floor of the Venetian Revival-style historic Houston house, originally built for hardware magnate F.A. Heitmann in 1924 by architect William Ward Watkin. The house stands on two acres in the neighborhood of Shadyside.
Shadyside is a private place neighborhood, adjacent to Rice University and developed by Joseph S. Cullinan the founder of The Texas Company (Texaco). The Showhouse, at One Longfellow Lane, was built in 1926 for businessman and native Houstonian Frederick A. Heitmann, owner of Houston's oldest hardware store, founded by his father in the 1860s. Heitmann was a prominent civic leader and proponent for Houston's ship channel and new (1924) art museum. Renowned architect William Ward Watkin designed the home. Watkin was Rice University's first professor of Architecture and was head of the department for 40 years. In addition to the F.A. Heitmann estate, Watkin is associated with the design of such historical landmarks as Trinity Church, the Houston Public Library and the Museum of Fine Arts.
LUXE Magazine, Preservation Houston, and Montgomery Roth kicked off the Showhouse project opening with the Villa de Luxe Soiree. Villa de Luxe will be open to the public from 10 a.m. to 4 p.m Saturday, Feb. 2, 9 and 16 and noon to 4 p.m. Sunday Feb. 3, 10 and 17. Tickets are $30 at the door and $25 in advance. For groups of 20 or more tickets are $20 each. The Showhouse will be open by reservation only for lectures, lunch and private group tours.
About Montgomery Roth Architecture & Interior Design, L.L.C.
Montgomery Roth is an award-winning interior design, architectural design and procurement firm that delivers exceptional results based on a delicate balance of technology, aesthetics, and economics in the creation of a functional environment. This philosophy has been the key to Montgomery Roth's success in creating outstanding architecture and interior designs for hotels, restaurants, bars, spas, casinos, and residential projects.