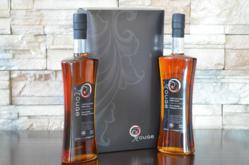 Montreal, Quebec (PRWEB) February 08, 2013
RougeMaple.com's ultra-premium fine gourmet products will grace the tables of top music industry celebrities as part of the celebrity gift bags for the 55th Annual Grammy Awards taking place on February 10, 2013.
"We were contacted and asked if we would be interested in having a selection of our products included in the celebrity gift bags for the Country Music Awards last November. Our products were very well received at that event and so we were asked whether we would also be interested in the upcoming Grammy Awards. Of course we jumped at the opportunity, you just don't say no to the Grammys!" explains Dino Di Pancrazio, the co-founder of Rouge.
More commonly known as "Swag Bags", celebrity gift bags are given to artists that are nominated at the major award ceremonies in the entertainment industry. These gift bags can contain a wide variety of luxury and designer items such as cosmetics, jewelry and of course, gourmet foods. The total value of these gift bags can reach the tens of thousands of dollars and are often the topic of major network television shows such as Oprah, in the past and more recently, the Ellen DeGeneres Show.
RougeMaple.com received notoriety for its ultra-premium organic maple syrup and for offering its unique "Adopt-a-Maple-Tree" concept. For the Grammys, Rouge created special VIP Adoption Certificates for celebrities receiving a gift bag. "To think that music icons like Rihanna and Adele will have a Rouge maple tree adoption in their names is pretty incredible!" comments Dino Di Pancrazio.
Included in the bags will be Rouge's signature product, its 100% Pure Organic Maple Syrup, as well as, Rouge Maple-Raspberry and Maple-Dijon Vinaigrettes, the very popular, Rouge Maple BBQ Sauce and a variety of other products from the exclusive Rouge line.
"We are very proud to be even a small part of such an illustrious event like the Grammy Awards and be able to offer our products to such a glamorous audience." states the Rouge spokesperson.
About Rouge Canada
(http://www.rougemaple.com)
RougeMaple.com is a Canadian based online company that offers consumers a unique way to purchase the premium organic maple syrup through its "Adopt-a-Maple-Tree" program. Rouge maple syrup is 100% pure and 100% certified organic. The Rouge selection of gourmet products are based on proprietary recipes developed by executive chefs and produced with the highest quality ingredients and care.
Please visit http://www.rougemaple.com for a full listing of our products.