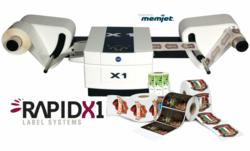 Tampa, FL (PRWEB) February 07, 2013
Tampa, Florida based Rapid Label Systems, exclusive resellers of the Memjet-based inkjet custom commercial labeling machines and their sister company, ColDesi, Inc. announced that they will be showing their printing technology at the Grahics of America Expo in Orlando.
The 2 companies will be participating with their Caribbean distributor, Imidia Digital Technologies, in booth 1043.
GOA features creative professionals from over 90 countries, as well as an average audience of more than 9,800 professionals, including sign, label and screen printers; specialty packaging and thermography; graphic designers and marketing professionals.
The Graphics of the Americas (GOA) is one of the printing industry's largest, annual exhibition and training events in the U.S. The 2013 event is at the Orange County Convention Center, North Hall A, on February 21-23, 2013.
The companies will feature demonstrations of three of their premier systems:
Rapid X1—one of the fastest, full-color and low-cost label printers available.Eclipse LF3 Digital Label Cutter & Laminator—the perfect finishing solution to a whole range of label printers. DTG Viper Direct to Garment Inkjet Printer—the best direct to garment DTG printer in the industry.
GOA attendees can see ColDesi, Rapid Label Systems and Imidia at Booth #1043. The expo schedule is:
Thursday, February 21 – 10:00 AM - 5:00 PM
Friday, February 22 – 10:00AM - 5:00 PM
Saturday, February 23 – 10:00 AM -4:00 PM
ColDesi is the leading supplier of equipment, materials, training and support for consumer and commercial direct-to-garment printing. ColDesi is also an exclusive distributor (Western Hemisphere) of DTG Brand Direct-to-Garment Inkjet printers.
Direct to garment (DTG) printers produce high-quality designs for custom-made t-shirts, garments and other products, for both small and large businesses. Industrial label printers do everything from labels for custom-branded products to reflective parking signs and OSHA safety signs.
ColDesi is partnering with Miami-based Imidia Digital Technologies, a premier distributor of digital printing technology, digital direct to garment and label printing to Latin America and the Caribbean.
Rapid Label Systems offers full label production systems at a fraction of the cost of comparable digital label presses, with output speeds unrivaled by other inkjet label systems. Rapid Label Systems make label printing a high return on investment for a wide range of businesses, both in-house and for-profit printing.
For more information contact:
Mark Stephenson
Colman Family of Companies
5409 S. Westshore Blvd,
Tampa, FL. 33611
1-800-891-1094