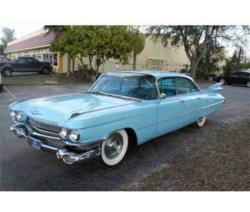 As I started getting a grasp on the volume of parts... I realized we had an entire car here, just in more than 500 separate parts
Austin, TX (PRWEB) February 07, 2013
The popularity of storage auctions continues to captivate the public due to ongoing success of television shows like A&E's Storage Wars franchise. The thrill of a big find and a long lost treasure makes for fascinating captured real life drama. Unfortunately there weren't any video production crews around at the Austin self storage facility's lien auction when one lucky auctioneer bid for what looked like a bunch of junk under a greasy tarp.
Nobody at the Pond Springs Storage auction could tell what was underneath, but the best guess was that the junk might be worth a few bucks as scrap metal. Uncontested bidding lead to the eventual winner, Pat Jones, discovering two perfectly restored white bumpers with classic 50's style fins. "When I saw that fin, I knew it was a classic car part, but one part doesn't make a whole car. As I started getting a grasp on the volume of parts... I realized we had an entire car here, just in more than 500 separate parts," Jones said.
Mr. Jones won the car parts in a storage lien auction, where a storage facility will have an auction of the contents of individual unpaid storage units, in order to recoup the unpaid rent fees. Reminiscent of Johnny Cash's song "One Piece At A Time", the VIN numbers on part after part showed they were all disassembled parts to a 59' 2 door coupe Cadillac, a car that when restored is valued at over $50,000. A pretty generous profit margin considering Jones' winning bid was $51.00. "It appears the previous owner was using the storage as a second garage and restoring the car in the storage unit. He had gotten so far as to have rechromed and restored over half the parts. It is quite a mystery how and why this car arrived here in pieces."
MyAustinStorage.com has storage lien auctions about 4 times a year. The next one is likely going to be taking place in March.
About MyAustinStorage.com
MyAustinStorage.com is an Austin self storage company with 3 locations. They offer residential and commercial self storage units for rent, as well as moving and packing supplies at each location. Convenient drive up storage units are at all locations, and most locations offer Climate and Temperature Controlled Storages with 24/7 video cameras to offer a greater degree of protection for your property. Click here for more information.