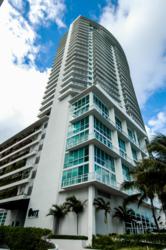 Miami, Florida (PRWEB) February 11, 2013
Owning a waterfront penthouse in Florida is like belonging to a select club for aficionados of upscale living. But now you don't have to be in the 'millionaire's club' to buy a penthouse at Onyx on the Bay.
"While recent sales of Miami penthouses have hit multimillion dollar levels, the cache and convenience of owning a penthouse here comes at a surprisingly reasonable price point," says selling agent Dean Bloch. "The residences in this great building overlooking Biscayne Bay come with all the amenities at the low starting price of $615,000," adds selling team partner Chad Carroll.
The two Douglas Elliman agents, penthouse and premium-property experts, know what they're talking about. They currently have 70 listings valued at over a hundred million dollars and jointly closed over 65 million dollars' worth of real estate in just one year; including a record-breaking sale on Brickell Avenue.
As the exclusive sales agents for four of Onyx on the Bay's penthouses, Dean and Chad bring in-depth knowledge of the Miami market together with experience, integrity and professionalism. They were handpicked by developer Hyperion Group, even though the development company has its own sales team, given their incredible sales track records.
The largest penthouse they present is PH1, a 3,335 square foot spread with four bedrooms and four and a half baths including maid or guest quarters and a roof top balcony and hot tub. The price is a remarkable $1.95 million. Only slightly smaller at 2,897square feet, PH2 features three bedrooms and three and a half baths with rooftop balcony and hot tub offered at $1.9 million.
Onyx on the Bay is a small boutique-style building of 118 units with only five units per floor. The 28-story building has been completely rehabbed and boasts distinctive and intelligent amenities like a fully equipped gym with a 1,500 square foot yoga room and a movie room. The terrace surrounding the swimming pool overlooking Biscayne Bay is furnished with stylish outdoor furniture and two barbeque stations. Best of all, for pet-loving residents, there is a dedicated dog park on the eighth floor.
Located at 665 Northeast 25th Street, Onyx is in the Edgewater neighborhood. It is fast attracting buyers as an alternative to Downtown Miami and Brickell. Waterfront, quiet, convenient and on the cusp of the Arts District, Onyx is close to Midtown, Design District and Wynwood.
Agents Dean and Chad believe the penthouses in Onyx on the Bay are ideal for the upwardly mobile sect. "Here, residents can live large without the large price tag."
About Douglas Elliman
Controlling 40% of the New York residential real estate brokerage market, Douglas Elliman continues to lead in the luxury real estate category with over $11 billion in annual sales volume, 4,000 real estate professionals and 70 offices in South Florida and New York, including Miami, Fort Lauderdale, Boca Raton, New York City, Long Island, the Hamptons and Westchester. As the exclusive partner to Knight Frank, leading European luxury brokerage, Douglas Elliman's reach extends globally.
For more information, please visit http://www.ellimanflorida.com/ and http://www.elliman.com/ or visit us on Facebook at http://www.facebook.com/ellimanflorida.
###