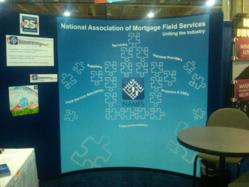 Collectively, as one industry with one voice, we can promote and achieve an efficient, effective, safe and balanced mortgage servicing system. David Stevens, MBA President & CEO
Stow, OH (PRWEB) February 28, 2013
In its continued effort to educate and provide solutions for the mortgage field service industry, NAMFS recently attended and exhibited at the Mortgage Banker's Association (MBA) Servicing Conference and Expo in Dallas, Texas. The MBA Servicing Conference brought together experts who ensured attendees had access to the latest forecast and the most sought-after industry authorities. NAMFS had the opportunity to speak with many attendees showcasing the NAMFS Academy (training and certification program) as well as ALLIANCE, the NAMFS Code Enforcement Solution.
The MBA is the national association representing the real estate finance industry. Headquartered in Washington, D.C., the association works to ensure the continued strength of the nation's residential and commercial real estate markets; to expand homeownership and extend access to affordable housing to all Americans. MBA promotes fair and ethical lending practices and fosters professional excellence among real estate finance employees through a wide range of educational programs and a variety of publications. Its membership of over 2,200 companies includes all elements of real estate finance: mortgage companies, mortgage brokers, commercial banks, thrifts, Wall Street conduits, life insurance companies and others in the mortgage lending field.
Many workshop sessions were offered to provide participants education in several areas applicable to their business. Topcis covered included Strategies for Effective Vendor Management, Property Preservation, Changing Servicer Operations, Post-foreclosure Options for Property Management and Post-Crisis Loan Servicing. Servicers and investors/insurers are increasingly opting for foreclosure alternatives such as short sales and leasing properties. In light of the delay in the national economic recovery, the mortgage industry is faced with continued challenges ensuring properties are protected. Mortgage servicers, field service providers and municipalities share the common goal of ensuring compliance with local, state and federal preservation requirements, resulting in increased litigation exposure and regulatory oversight. Expert panelists including servicers, government representatives and property preservation companies spoke regarding tactics to preserve neighborhood integrity and protect home values. Sessions focused on strategies and best practices for resolving these critical industry priorities.
There were also several NAMFS members represented in the Expo hall including: A2Z Field Services, America's Infomart, Inc., AMS Servicing, LLC, Asset Management Specialists, Claims Recovery Financial Services, CoreLogic, Field Assett Services, Inc., Five Brothers, HomeStar Property Solutions, Lender Processing Services, Inc., M&M Mortgage Services, Inc., Miken Construction, Mortgage Contracting Services, LLC, MSI, National Field Representatives Inc., NVMS, Pacific Field Service, Inc.,, Property Field Services, Reliance Field Services, Safeguard Properties, Spectrum Field Services Inc., US Best Repair Services, Wells Fargo Bank, N.A., Xactware Solutions, Inc., and ZVN Properties, Inc.
About NAMFS
The National Association of Mortgage Field Services, Inc. (NAMFS) is the premier trade association for the mortgage field service industry. We are dedicated to working with all entities of the industry from the Government Agencies and investors that set policy to the contractors and inspectors that perform the work.