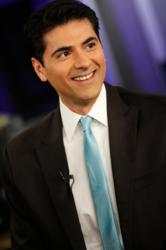 If you really can't throw the ball and your muscles shut down, you're not going to be able to play.
Beverly Hills, CA (PRWEB) February 08, 2013
A weekly guest on Fox's Good Day LA, Sonu Ahluwalia, MD, speaks about various health topics ranging from cervical cancer to flu shots. This Monday, the orthopedic surgery specialist commented on Dwight Howard's torn shoulder labrum.
"A certain motion in a different way, which was exaggerated, tore the labrum off the bone, and that's what hurts him," said Dr. Ahluwalia, an orthopedic surgeon at La Peer Health Systems in Beverly Hills.
Dr. Ahluwalia went on to explain that the shoulder is a ball and socket joint featuring a ring of cartilage called a labrum. The labrum both deepens the socket, allowing the ball to remain in place, and connects to the ligaments that hold the joint. Unfortunately, the labrum is also vulnerable to injuries like the one suffered by Howard. Further, both cartilage and ligaments receive less blood flow than other parts of the body, a fact which makes it harder for the normal healing processes to work.
According to Dr. Ahluwalia, the Lakers center is currently undergoing a procedure called platelet rich therapy to help expedite his recovery. A relatively new treatment from the field of orthobiotics, platelet rich therapy involves the spinning of the patient's own blood in a centrifuge. Doctors then concentrate the platelet cells into the plasma on top and inject it into the injured areas.
"What the cells do is they secrete these growth mediators that attract other cells to help in healing," Dr. Ahluwalia explained.
While the treatment could offer new hope for injured athletes, Dr. Ahluwalia cautions against returning to sports play too soon. According to Dr. Ahluwalia, athletes tend to have a higher pain threshold than the general population. Further, their eagerness to return to the game may cause them to underplay the severity of an injury. He went on to cite recent examples of sports stars like Redskins' star Robert Griffin III, who played through a severe knee injury, and advised players and coaches to be cautious.
"If you really can't throw the ball and your muscles shut down, you're not going to be able to play," said Dr. Ahluwalia.
Watch Dr. Ahluwalia's entire news segment on My Fox LA.
For more health tips from Dr. Ahluwalia, as well as videos of his FoxLA segments, visit his Facebook page.
Sonu Ahluwalia, MD, is an internationally-acclaimed board-certified orthopedic surgeon at La Peer Health Systems, as well as the Clinical Chief of Orthopaedic Surgery at Cedars Sinai Medical Center in Beverly Hills. His private practice specializes in sports medicine, shoulder, knee and hip surgery.
Dr. Ahluwalia completed his orthopedic training at the Harvard Combined Orthopaedic Surgery Residency Program in Boston, one of the most sought after training programs in orthopaedic surgery. He has completed three fellowships, two at Harvard Medical School and one at Lenox Hill Hospital in New York City, on shoulder surgery, sports medicine, and joint replacement and joint preservation surgery. For more information please call 310.659.2910 or visit http://www.Ahluwalia.org.